Huasteca Potosina
6 days / 5 nights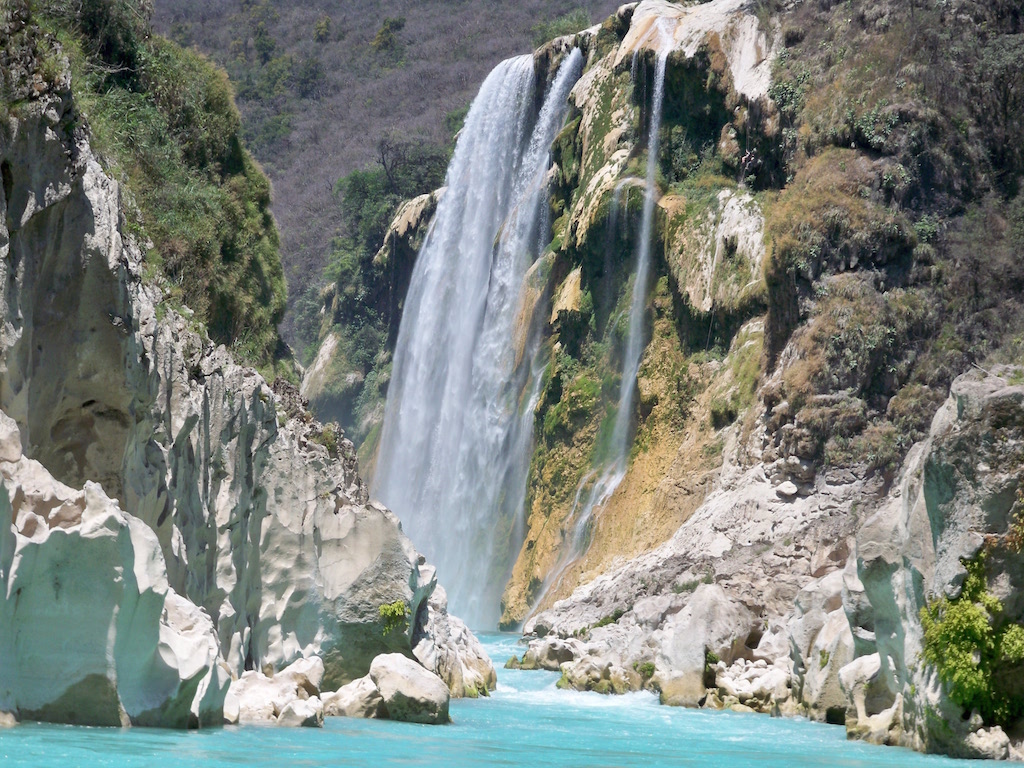 Perfect scenarios for adventure tourism
Huasteca Potosina has a rich jungle ecosystem and an exceptional natural beauty with rivers, chasms and waterfalls
Small Group with English-speaking guides
In this tour:
Tamul Waterfall, Minas Viejas and Micos - the beautiful turquoise waterfalls
Tamasopo - amazing emerald waterfalls and pools
Puente de Dios (The Bridge of God) - a cavern-like formation where sunrays filter through a crack, creating an amazing lighting effect.
Meco Waterfall - the scenic waterfall where clear water flows over limestone pools, the whole effect appearing intensely blue.
Temazcal - authentic Indian cleansing ritual
Sotano de Las Huahuas - the extraordinary ritual of the sparrows and conures
Picturesque city of Xilitla, beautiful mountains Sierra Gorda and a palace of Edward James - a hidden gem of Mexican surrealism...
Day 01. Mexico City - Tampico - Ciudad Valles. Departing flight to Tampico, located on the shores of the Mexican Bay. Meet up at the airport and transfer to Ciudad Valles - a center of a nature region of Mexico - Huasteca Potosina. About 2 ½ hours on the road. Your view will open up to a mind-boggling panoramic sight of Mexican valleys and magnificent mountains, covered with ancient pines and gigantic cacti. Arrival and accommodation at a hotel for 5 nights.
Day 02. Waterfall Tamul - Tampaon River - Mountain Cenote. Breakfast at a hotel. Departure for a tour of a fourth canyon of a Santa Maria system. For almost an hour we will float against the current up a mountain turquoise-colored river Tampaon in traditional wooden canoes - pangas, masterfully navigating around white limestone cliffs. A tender-blue color of the river is created by limestone, lining the river bed, and through which the water has paved its way. In its nature, it is reminiscent of a Caribbean Pool, which also creates the right conditions for the refraction of the blue spectrum light off the river bottom. The shores of the canyon are covered with extensive evergreen plant life, pierced by myriads of little springs - hands of another river, which takes its beginnings in enormous mountain masses of the surrounding mountain system of Sierra Madre Oriental. They flow in small cascades into the Tampaon river, blending into one single current, and roaring speedily to the Tamul waterfall. Here we can observe flocks of exotic fantastically colored birds whose tummies match in color the sky-blue waters, come ashore several times in parts of strongest opposing current, and cross those areas along a stone covered shore, watching our boat captain skillfully contain the roaring current of the river. Then, at a sign of our guide, get back into the boat, and start rowing, impatiently awaiting the meeting with this magnificent wonder of nature- Turquoise Waterfall! There, right behind the next turn, you can hear the deafening noise of a falling water-it is the Tamul Waterfall, throwing down its waters from the height of 320ft (105 meters). Even if we tried, it would be virtually impossible to describe in words the beauty of Tamul-it is something for the sight to behold! On the way back, we will walk along the current, taking time to capture these amazing views and natural creations on camera and within our minds, as well as to simply relax and enjoy ourselves. Next we will visit another natural wonder-a mountain cave - a type of infamous Mexican cenotes, where we can freshen up and go for a swim. In the end of the day, we will stop by for a tasty and memorable treat-a lunch at a little village of La Morena. Here, you can truly feel all the rustic charm of a remote Mexican village! Return to the hotel. (Breakfast and Lunch included)
Day 03. Micos and Minas Viejas Waterfalls - Temazcal ceremony. Breakfast at a hotel. We are departing for a nature park Micos-endless mountain basins of an emerald river, with seven multi-height cascades, in which we are going to start our unique adrenaline pumping adventurous amusement: along almost one kilometer of the river, forgetting about the fears and losing ourselves in the pearlescent drops of splashing water. We will jump through cascades of falling water, straight into the calmness of natural pools, and swim to a next waterfall. Seven levels, from 3ft (1m) to 25ft (8m) in height-a heart-pounding but completely safe amusement for all-from 6 to 60! No worries-you will be provided with instructions, given out life jackets and helmets, and there will be an ecological guide present with you at all times. Afterwards, we will continue to Minas Viejas waterfall - another astounding 152ft (50m) tall natural wonder of Huasteca Potosina - surrounded by subtropical jungle, and creating beautiful emerald colored natural pools. Our goal-swimming and relaxation. For the true daredevils at heart, we can offer another way to test yourself-rappelling down the rocky sides of the waterfalls, choosing a spot on one of the levels of Minas Viejas. An active day like this deserves an according dinner in a quaint little village, on a shore of a beautiful river. After a post-dinner rest, we will partake in a Temazcal ceremony- «We have lost the connection with our basic elements of life-earth, water, air, and fire. We exist either in the past or in the future, but we don't know how to exist in "the present"; Temazcal is dedicated to the connection with this present reality» Temazcal is a name for a traditional Indian sauna, which in translation from Nahuatl language means "a house of hot rocks." However, Temazcal is much more than a regular sauna. It is an only Indian ritual which is being practiced to this day in entire Mexico. The temazcal comes to modern times as a relaxing and cleansing therapy for the nervous system and reactivation of the skin cells. The elimination of fat and stimulation of the blood vessels is activated in the bath, also bringing beneficial effects to the digestive and respiratory systems. Return to the hotel. (Breakfast and Lunch included)
Day 04. Xilitla - San Agustino monastery - Sir Edward James palace - Sotano de las Huahuas. Breakfast in the hotel. We are departing to the capital of Mexican surrealism-a picturesque town of Xilitla. Steep but inhabited mountain slopes, sheltering this town, are rich in fruit gardens and coffee plantations. From any vantage point your gaze will fall upon shaggy green mountains, whose peaks are hidden in the thunderous clouds. A Bell tower of an ancient monastery, built in 1553 by Spanish missionaries, majestically towers and dominates over this entire magnificent mountain landscape. Visiting San Agustino monastery - the oldest religious structure of San Luis Potosi state. Although Xilitla is lost in the mountainous jungle terrain of San Luis Potosi, it is well known among artists, sculptors, musicians, and art patrons from around the world, and hides in itself a wonderful surreal landscape - Las Pozas, created by an eccentric English millionaire, poet, and patron of art, Edward James, who arrived to Xilitla in 1947. It was here, where he realized his mind-boggling dream, carried out in a fantasy of concrete shapes and forms, reminiscent at once of Antonio Gaudi, Maurice Asher, Francesco Borromini, Simone Rodia, and the Emerald city from the Wizard of the Oz. Under the guidance of Plutarch Gastelum, in 1.5miles (2km) from Xilitla and in a very center of the jungle, an unusual complex of buildings and sculptures, which looked like a construction by some extraterrestrial civilization, started to take shape. We slip into this incredible place through a large gate made in a shape of cast iron stars. Move along a path, along which slither up vertically placed mosaic snakes. Climb a 20ft (6m) concrete cactus, climb the stairs to the mushroom platform, then up a spiral staircase, which encircles a gigantic flower stalk before disappearing into nowhere. All around rise enormous indented columns with birds' nests. Bulbous concrete yellow, red, green, blue, white, and purple flowers with leaves so huge, that you can walk on top of them. Concrete pumpkins of various sizes, and dolphins. Staircases, which lead up into nowhere... This little Shangri-La inspires many people that set their foot in there. A paradise land, filled with beautiful wild orchids, flocks of colorful parrots, and waterfalls falling into crystal clear pools. Lunch time. After lunch, we will continue our journey to an amazing natural evening show-hundreds of thousands of swallows come down from the skies into their underground home: Sotano de las Huahuas (Cave of Huahuas)- a hole in the ground, 1567ft (478м) deep and 213ft (70м) wide. This cave is a natural abyss of karst origin and was formed by the water of limestone plain. It is natural refuge of thousands of the parrots Aratinga holochlora, known as green conures. These birds do surprising rituals: to exit the cave, the birds fly in circles, gradually flying upwards until they reach the surface. Birds do this every morning. In the evenings, they fly in spirals for then precipitating to their nests in the cave's deep abysm. A large group will circle the entrance to the cave and about once a minute, a group of perhaps fifty will break off and head straight for the entrance. Once they cross the edge, they pull in their wings and free-fall into the cave. They extend their wings and pull out of the dive once they reach the height of their nests. While we have to walk about 1mile (1.5km) across a mountainous terrain to this naturally formed venue, the experience will be definitely worth this trip. We will witness this unique natural phenomena in the sunset... plummeting of hundreds of thousands of birds into the terrestrial abyss, their loud cries before the entrance into the chasm, perfectly coordinated piloting without any collisions, exotic aroma of a surrounding mountain jungle, and a flaming disc of a setting sun! Evening return to the hotel. (Breakfast and Lunch included)
Day 05. Tamasopo Waterfalls - Puente de Dios (The Bridge of God) - Tampico. Breakfast at a hotel. Departing to Tamasopo - emerald wonderland of numerous waterfalls and calm natural pools. If there is heaven on Earth-this is definitely where it is located. The water is flowing from all four sides, in cascades of different height and force, forcing itself through a thick green mountain jungle. You can imagine yourself as Tarzan, tightly grabbing a rope, specially tied to a tree, and, leaping several meters through the air, plunge into a pleasantly refreshing mountain river. Climbing from the top pool into a lower one, separated by a natural border of accumulated limestone, we will reach the wide waters of a main waterfall and enjoy a natural massage of falling water. Over a century ago there was a mill designed for processing sugar cane, operating on the energy of the Tamasopo waterfalls. In a mean time, all that is left are stone ruins, overgrown with lianas and tree trunks. Be this place located in the 17th century France, it would've been a perfect location for battles between the musketeers and the Cardinal's guardsmen. In their picturesque ness, these waterfalls surpass many breathtaking views from movies of the past. We follow to Puente de Dios (The Bridge of God) - two natural pools with dual-colored water: from turquoise to transparent-blue, and stalactites and stalagmites growing from the surrounding cave walls. A ray of sunlight, penetrating through the crevasses in the cave, creates an unforgettable brilliant water illumination. Lunch time. Return to the hotel. (Breakfast included)
Day 06. Сiudad Valles - Tampico - Mexico City. Breakfast at a hotel. Transfer to the Tampico airport. Flight to Mexico City. Connection with your international flight. Flight home or an extension of the travel around the country. (Breakfast included)
Rates p/ adult person, group min of 12 pax - Taxes and Fees included
Double occupancy DBL
$1650
Single occupancy SGL
$1950
Price includes:
Flight Mexico City - Tampico - Mexico City.
Transfer Tampico - Ciudad Valles - Tampico.
5 nights at the hotel with breakfast buffets.
3 full lunches during the tours.
Drinking water, refreshments, and cookies during the tours.
Daily transport to the waterfalls according to the program.
English speaking guide on transfers and tours. Russian or Spanish guide - by inquiry.
Entrance fee according to the program.
All necessary equipment during water tours.
Price does NOT include:
International flight.
Tips for the guides and attending personnel at the hotel.

Tour insurance.

Offered for an extra charge.
Additional accommodation in Mexico City and any other state of the country.
What you should bring:
Shoes well-closed around the ankles.
Two pairs of comfortable walking shoes with rubber soles.
Light clothes for the hiking.
Light and ventilated thick cotton socks.
Swimming suit is important because almost each trek passes through or arrives at a river stream or waterfall.
A small back pack with: sunglasses, solar protector, band-aid, repellent, drinking water, camera, towel, regularly taken medicine.
Plastic bags for garbage during hiking.
Observation:
The local average annual temperature is 28ºC (82ºF).
The best time to visit is from December to April, when the chances of enjoying the tour are greater.
This is a simple program. Combine it with other programs, add days or destinations. Milavia International will design your trip just for you.
We recommend extending the program in any direction - Mexico, Guatemala, Costa Rica, or any other Latin American country.