BEAUTIFUL COSTA RICA
Family vacations with a difference
! PURA VIDA !
In Costa Rica, the locals exclaim "Pura Vida!" - or the "Pure Life". Your experiences will be about just that - the taste of fresh-picked bananas and pineapples, the touch of a butterfly on your fingertip, the lush smell of a cloud forest, the peacefulness of the Pacific coast. Experience it with all your senses!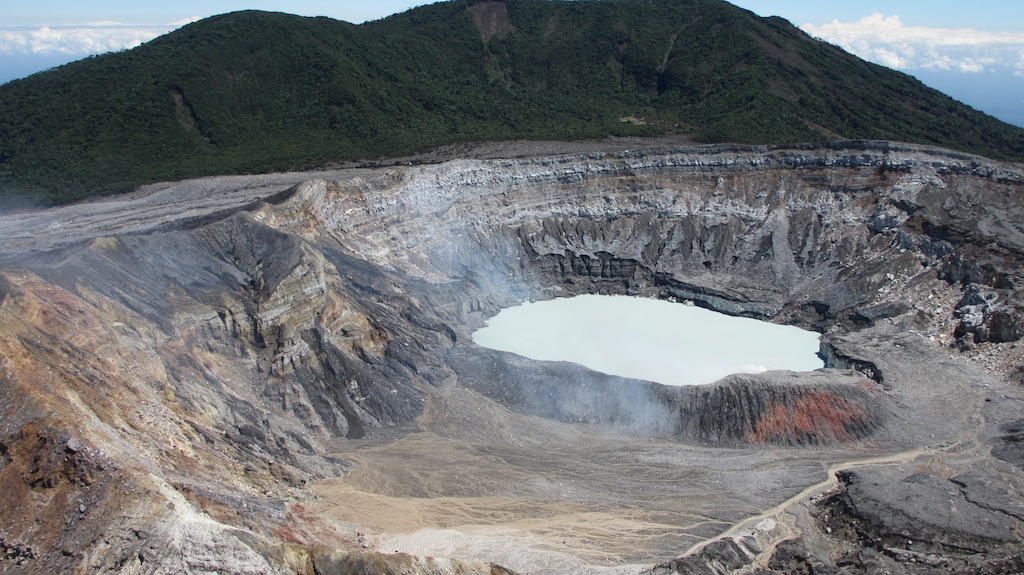 A summer of jungles, waterfalls, monkeys & endless beaches!
8 days / 7 nights
Small Group with English-speaking guides
Tour starts in San Jose, Costa Rica:
2019: March 16, 23 / April 06, 13, 20, 27 / May 04, 11, 18, 25 / June 22 / December 07, 14, 21
Exclusive family vacation experiences - to suit everyone from children to grandparents.
Poas Volcano National Park and the hike to Botas Lagoon.
La Paz Waterfalls Garden with a colorful Butterfly Farm - Must See in Costa Rica!
Visit the La Fortuna waterfall.
Pleasant relaxation time in an unforgettable world of Tabacon thermal pools in Costa Rica, where you can bathe in relaxing hot baths of multiple natural pools, surrounded by strikingly colorful tropical vegetation - Must See in Costa Rica!
Monteverde Cloud Forest Reserve and Hanging Bridges.
Manuel Antonio Park and relaxation on the shores of the Pacific Ocean.
Day 01. San Jose. Arrival to San Jose. Meet up at the airport, transfer to the hotel and lodging for 1 night. After checking in to your hotel, the rest of your day is at leisure to relax before your adventure.
Day 02. Poas Volcano National Park - La Paz Waterfalls Garden - La Fortuna (Arenal). Breakfast at a hotel. Departure to the Poas Volcano National Park. Poas volcano is a powerful symbol of geothermal forces that formed Costa Rica. Scenic drive to the top of Poas, one of the world's widest accessible volcanic craters. Stand on the edge and look down into the bubbling blue cauldron. This volcano, whose crater reaches 1.5 km in diameter periodically spews from its depths columns of steam and gas. However, the climb to the crater is completely safe for the tourists. Poas is surrounded by a cloudy tropical forest: ancient trees stand alongside with beautiful orchids and bromeliads. Here giant umbrella-leafed gunnera has gained a name for itself «an umbrella for the paupers», thanks to its huge leaves. Surrounded by coffee plantations, Poas volcano is majestically rising 8878ft above the sea level. The view of a main crater of the volcano, and a turquoise lake hiding inside it, will definitely leave a lasting impression in your mind. The second crater, Laguna Botas, is a clear rain-fed lake surrounded by jungle that is reached by a walk through a dwarf cloud forest. Next - visiting La Paz Waterfalls, Butterfly Farms and feeders, with myriads of hummingbirds flocking around them. Lunch is a buffet, which consists of traditional Costa Rican meals at a mountain restaurant with natural cascades of a flowing downwards river. After lunch -transfer to the area of the Arenal Volcano - one of the youngest volcanoes of Costa Rica. This area is designated as a special park-natural habitat. Volcano Arenal is a tall mountain of a perfect conical shape. Arenal heats the water for the hot streams, which are located under unique pools. Your hotel is so conveniently located, that you can see a panoramic view of the Arenal, and the tropical jungle will open its embrace. Lodging for 2 nights. (Breakfast and lunch included)
Day 03. La Fortuna Waterfall - Tabacon Thermal Streams. Today you will visit the La Fortuna waterfall. The whole trip you will be accompanied by the omnipresent Arenal volcano. As you rise into the evergreen shaggy mountains, you will observe colorful natural landscape. Cascading down flow of water creates a beautiful lagoon-a natural pool with cool clean water-it is exactly here where you will definitely feel the whole joy of being in Costa Rica! You will come down to the foot of a waterfall and bathe in its cool waters. After such wonderful activity- filled time there will be a pleasant relaxation time in an unforgettable world of best thermal spas in the country, where you can bathe in relaxing hot baths of multiple natural pools, surrounded by strikingly colorful tropical vegetation. Four main life elements gathered here, creating a heavenly spot for getting away from earthly problems, for physical and mental relaxation and replenishment of personal energy. This is a bustling energy of Arenal, plus thermal pools of the river taking its place right at the foot of the volcano, plus charming flora and fauna of the surrounding moist tropical forest and peaceful aroma of the air. Here we will spend the rest of the day and have dinner in best traditions of the country, overlooking the nighttime Arenal. Evening return to your hotel. (Breakfast, lunch and dinner included)
Day 04. Arenal Lake - Monteverde Cloud Forest Reserve. Breakfast at a hotel. Today you will go to one of the most interesting ecological regions of Costa Rica- Monteverde Cloud Forest Reserve. You will travel to Monteverde in a very romantic way, taking a boat ride across the Arenal Lake, and getting to its other side in about 40 minutes. After that, your journey will lay across mountain spaces of the country with a visit to a Costa Rican rancho, where you can enjoy some homemade coffee taste locally made quesadillas. After that, you will arrive to Monteverde. Next - an incredible walk across Hanging Bridges, which will allow you to enjoy the beauty of the jungle for a bird's eye view. Monteverde Hanging Bridges are the embodiment of a great engineering art, perfectly following all safety precautions. You will walk across eight bridges of varying lengths: from 186 to 438 feet. Entire trip will be approximately 2 miles. The treetop walkways are suitable for people of all ages and physical condition. One advantage of the suspended bridges is that you will be able to see up close, the variety of vegetation that lives in harmony on the trees who serve as "hosts" for numerous orchids, bromeliads, ferns, moss and vines. Monteverde is called "a cloud forest". It is always cool here, and often there is a mild drizzling rain. This creates perfect conditions for amazing nature. Enormous trees, covered with moss and parasites, various lianas: all amidst what seems to be fog, but in reality is clouds covering the mountains in which the park is located. Lodging for 1 night. (Breakfast and lunch included)
Day 05. Monteverde - Manuel Antonio. Breakfast at a hotel. Departure to the Pacific Ocean coast of Costa Rica, to a territory of a National park Manuel Antonio. The road is incredibly beautiful, and lays serpent-like along the mountains that blend with a horizon. The landscapes are so picturesque, that they remind of masterful hand of a skilled artist. Along the road, there are numerous peasant shops with tastiest domestic cheese and plentiful Costa Rican natural sweets. During our casual stops, you will have time to enjoy communication and consumption of this country's culinary treasures. Your travel will continue until the Rio Grande de Tarcoles. You will have a chance to observe enormous 12ft long American crocodiles from a bridge. You will also get to see iguanas and colorful Ara parrots. Time for lunch. After lunch, you will continue your way to a popular tourist town of Quepos, located next to the national park Manuel Antonio. A stop at a unique spot-a restaurant-airplane, which opens to magnificent views to Manuel Antonio bay. Time to take pictures. Arrival to the hotel and lodging for 2 nights. (Breakfast and lunch included)
Day 06. Manuel Antonio Park. Breakfast at a hotel. A tour to Manuel Antonio Park. Small in its area, Manuel Antonio contains a charming combination of rain forest, magnificent beaches and a clean ocean. The forest is home for sloths, sleepily hanging from among the leafy depths, iguanas, the rare and adorable squirrel monkeys and millions of colorful little crabs. And the trail that winds around Punta Cathedral affords some spectacular views. Experience the forest, life in the estuary, mangroves, lagoon, and rainforest as you amble through the park. The vegetation is impressive, includes everything that makes a tropical forest brim with life: mosses, ferns, flowers and epiphytes growing thickly on every tree. Here you can freely observe white-faced monkeys and pizotes (is a species of coati) - peculiar animals that walk around without any fear of humans. The main attraction of this park is its fourth beach. After the acquaintance with the park, there will be some leisure time on a beach. Your hotel will be conveniently located near the park and ocean, so you will be able to have a wonderful evening enjoying the sights of the ocean and going for a swim. (Breakfast and lunch included)
Day 07. Manuel Antonio - San Jose. Breakfast at a hotel. Enjoy Manuel Antonio! Manuel Antonio offer the uniquely breathtaking fusion of scenic mountain beauty and an active lifestyle. Between the main town and the national park, there are several excellent beaches in the area. Here, you can enjoy the wide variety of activities such as swimming, hiking, surfing, simply relaxing or get our Optional Excursions. * Evening transfer to San Jose (2,5 hrs.), lodging for 1 night. (Breakfast and lunch included)
*Today you will have the optional excursions are designed to work perfectly with your tour. They let you experience more of what you choose to see, but ensure that you don't pay for activities you are not interested in, allowing you more time to do what you enjoy most. Today's excursion has been pre-selected by you prior to arriving in Costa Rica:
Morning BOAT TOUR - a half-day boat tour through the estuary and mangroves of Isla Damas where you may possibly spot, caimans, sloths, boa constrictors, white-faced monkeys and other species of mangrove wildlife. A typical Costa Rican lunch included at a restaurant.
Morning HORSEBACK RIDING that takes you to a private tropical reserve near Manuel Antonio, then a jungle walk to two waterfalls at Tocori for a refreshing dip; mount the horses again and ride to the Rancho for a typical Costa Rican "casado" for lunch before returning to your hotel.
Day 08. San Jose - departure home. Breakfast at a hotel. Check out and transfer to the airport for your return flight to home. (Breakfast included)
Rates p/ adult person, group min of 12 pax - Taxes and Fees included
Double occupancy DBL
$1620
Single occupancy SGL
$1998
Price includes:
7 nights at the hotels with breakfast buffets.
6 full lunches.
1 full dinner.
Daily transport according to the program.
English speaking guide on transfers and tours.
Entrance fee according to the program.
Tour insurance.
Price does NOT include:
International flight. The cost is confirmed during the tour reservation. Participants make their own arrangements on the airline of their choice.
Airport Tax departure - $29 per person. An airport departure tax of $29 is required upon leaving Costa Rica at the end of the trip which may be paid in cash (dollars or local colones) or using a debit card / credit card (extra fees apply).
Meals NOT mentioned in the program.
Cost of additional tours and visits along the route.
Gratuities for the guide & driver. You will soon realize that the professional in-country staff is working round-the-clock to ensure the success of the experience. Gratuities are a small way to say thanks.
What you should bring: Everyone travels differently, and while we do not require that you follow this list exactly, please use it as a guideline for deciding what to pack. What we highly recommend:
Two pairs of comfortable walking shoes with rubber soles.
Shoes well closed around the ankles.
Light clothes for the hiking.
T-shirts and shorts.
Jeans or khakis.
Light and ventilated thick cotton socks.
Swimming suit.
A small backpack with: sunglasses, solar protector, band-aid, repellent, drinking water, camera, towel, regularly taken medicine.
What we do not recommend:
Expensive jewelry or other valuables.
Heavy backpack.
Heavy hiking boots.
Expensive electronics.
CANCELLATION CHARGES: Cancellations received by Milavia International, Ltd are subject to the following:
CANCELLATION FEES PER PERSON.
60-50 days prior to departure...20% of program price
49-31 days prior to departure... 50% of program price
30 days prior to departure or less..... 100% of the program price
Important:
Please check today to make sure that you know where your passport is and that it is not expired or about to expire. Your passport must be valid for at least three months from the start of your trip to Costa Rica. If your passport expires within three months of your arrival date in Costa Rica, you may not be granted entry.
Plan to carry a photocopy of your passport with you at all times during the trip.
Most North American cell phones will work in Costa Rica; however, the rates will be much higher than within North America. Please check with your cell phone carrier. No matter what you decide, if you plan to have a cell phone in Costa Rica, please keep in mind that the group will travel through many areas where cell phone service will be limited or non-existent. Do not expect to be in phone contact on a daily basis.
This is a simple program. Combine it with other programs, add days or destinations. Milavia International will design your trip just for you. We recommend extending the program in any direction - Costa Rica, Panama, Nicaragua, Colombia or any other Latin American country.
Our pictures from Costa Rica Trips: http://www.milaviainter.com/en/costa.php