MEXICAN SYMPHONY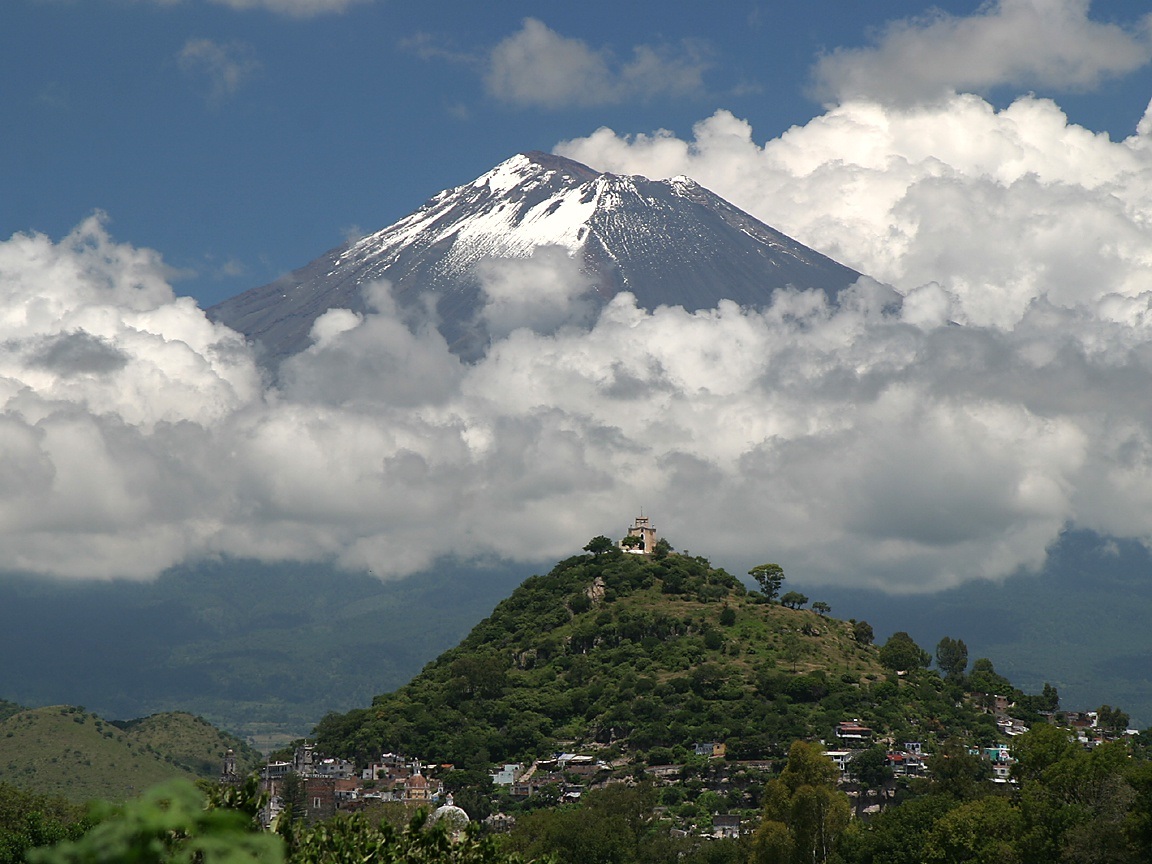 19 days / 18 nights
In this tour:
Mexico City-city of colonial palaces and architectural modernism.
Hiking at the Nevado de Toluca volcano.
Valle de Bravo-"Mexican Lausanne" in a list of "Magical Cities of Mexico"
Hot Balloon flight over Teotihuacan.
Archeological complexes Teotihuacan and Atlantis of Tula.
Canyon Tolantongo-Mexico in all its beauty!
Huasca de Ocampo-in a list of "Magical Cities of Mexico".
Hacienda San Miguel Regla-the luxurious witness of history and wealth of Mexico.
Basaltic Prisms of the Hidalgo state - in the list of "13 Natural Miracles of Mexico".
Colonial cities Cholula and Puebla at the foot of the active volcano Popocatepetl.
Eyipantla waterfall-the location for scenes from a movie "Apocalypto".
Magical Catemaco Lake and Monkey Island.
Nanciyaga Sanctuary - the movie "Medicine Man" with Sean Connery was filmed here.
La Venta Canyon and Sima de las Cotorras (Sinkhole of Parrots) - fantastic pantry of Mexican Nature.
Chiapa de Corzo and San Cristobal de Las Casas-in a list of "Magical Cities of Mexico".
Upper viewing decks of Canyon de Sumidero and a boat ride down the bottom of the canyon.
El Chiflon Waterfall and Montebello Lakes National Park -a biological preserve of UNESCO and a natural masterpiece of the state of Chiapas!
Bonampak and Yaxchilan - unique, lost in the jungle ancient Mayan cities.
Misol-Ha waterfall - a heavenly destination, this was a location for a movie "Predator" with Schwarzenegger.
Amazing Palenque-a mystery of centuries among endless forest ocean.
Golf of Mexico and Campeche-city-port from the period of Spanish possessions in the New World.
Magnificent Uxmal-a monument of world's cultural heritage.
Spanish haciendas-in the steps of green gold.
Underground Ik Kil Lake-amazement and ecstasy after every yard walked.
Tulum palaces and romantic relaxation at a boutique hotel on a shore of a Caribbean sea.
Day 01. Mexico City. Arrival to Mexico City. Meeting and transfer to the hotel. Accommodation at the hotel for 1 night. Your hotel is located in a Historical City Center. General information and orientation around the city.
Day 02. Historical Center-Temple of Saint Guadalupe-Santa Fe. Breakfast at the hotel. Author's walking tour to the most interesting corners of historical center of Mexico City. Capital of Mexico-the embodiment of the country with its rich culture and history. This city amazes with its Aztec temples, baroque churches and newest financial centers, which turn it into one of the most unique and cosmopolitan cities in the world. You will enjoy the ancient spiritual atmosphere of the Historical Center, mixed with the air of renaissance brought by the Spanish. Further, visit to the Basilica of the Saint Maiden Guadalupe-the matron of all Mexico and a religious symbol of the country. The mystery of its appearance to an ordinary Indian Juan Diego, which brought forth a speedy transition of Indians from Paganism to Catholic religion. A visit to a modern basilica and very first temples, built in 1530 on the Tepeyac Mountain, surrounded by natural cascades and bright tropical vegetation. Further, your route lies down the main boulevard of Paseo de La Reforma with its famous sculptures and modern world famous architectural form. Paseo de La Reforma was planned and laid out based on a model of Parisian Elysees Fields and is characterized by the abundance of greenery, numerous fountains and sculptures. Visit to the park and palace-museum Chapultepec with a Russian malachite room. Lunchtime in one of the most colorful restaurants in the city. Later you will follow to Santa Fe-a district of architectural modernism; a district of original innovative buildings, whose architectural style can put to a test even the most famous projects in the world. You will pass a second presidential palace Los Pinos-residence of the president of the country, go down expensive sleeper regions of the capital, and familiarize yourself with the contrasts of one of the biggest cities in the world. Evening arrival at a hotel, located in a modern area Santa Fe. Accommodations for 1 night. You will be able to use a wonderful hotel Spa. (Breakfast included).
Day 03. Santa Fe-Nevado de Toluca Vulcano-Valle de Bravo. Breakfast at the hotel. Today you will leave the capital of Mexico and depart for a unique lake-embracing town of Valle de Bravo, visiting a pine-tree suburb of La Marquesa on the way. Your route is unique and full of contrasts, behind every mountain turn there are unforgettable landscapes of a pine forest blending with a cloudless horizon. The wealth of the surrounding world is actually represented in the road - forest agarics, tastiest blackberries and golden trout in small rivers, thickly penetrating the mountain areas with their dense web. You will climb higher and higher towards the snow-covered top of the Nevado de Toluca Volcano. Ascension of the Nevado de Toluca Volcano and observing its two crater-lakes Moon and Sun. After that, you will continue your travel to Valle de Bravo-a town spread out on a shore of the Avandaro Lake, which is called "Mexican Lausanne" for its natural beauty and architectural style. Dalai Lama has visited Mexico in 2006, and it was here, where he decided to build a Buddhist Stupa after observing peaceful energy. Visit to this energy center in a wonderful pine tree forest Valle de Bravo. Arrival and accommodation for 1 night at a magical spa hotel. (Breakfast included).
Day 04. Valle de Bravo-Avandaro-Teotihuacan. Breakfast at the hotel. Departure to an observational excursion around the city and its surroundings. We will visit the unique temple of the Maranatha Retreat, built in 1860 with the elements of Byzantine, Mediterranean and Asian architecture, lost in the fir forests of Valle de Bravo. It used to be a Carmelite convent, but today it is open to people of all faiths. We will rise to the observation deck La Pena. Here the mountains are covered with forests of a rare beauty-powerful 200-300 year old fir trees rise up to 250 feet to support the sky like Atlantis. Here the paragliders take their flights and the view opens up to a breathtaking panorama of the entire Valle de Bravo and Avandaro Lake. We will view a Santa Maria Ahuacatlan temple with its interesting altar of Black Christ and the Parish of Saint Francis of Asis. We will visit a colorful folk art market and walk around colonial streets where houses drown in multicolored bugambilias and violet jacaranda trees. Lunchtime in a romantic floating restaurant, located on the Avandaro Lake with an amazing sight of surrounding mountains. After lunch,we will depart to a town of Avandaro and walk down a beautiful forest path to a Bride's Veil waterfall. Evening departure to Teotihuacan. Arrival and accommodation at the hotel for 1 night. (Breakfast included).
Day 05. Teotihuacan-Tula Atlantis-Tolantongo Canyon. At 6am-transfer to a deck from which we will partake in a breathtaking flight over Teotihuacan! (It is only a 10-minute drive from the hotel to a departure site. The activity is optional, and only people that desire to do this will go. The rest can continue their rest). Upon the flight completion, you will receive a colorful diploma. Return to the hotel at 8am. Full breakfast. We move on to a visit to an archeological zone Teotihuacan. According to an Aztec legend, this city was a birthplace to all arts, wisdom, knowledge, gods, and beliefs in them. You will delve deep into the mystery of one of the most impressive archeological ensembles of the world. Everyone knows that it is here where the energetic center of Mexico is located. At the top of the Pyramid of the Sun you have to make a wish, raise your hands to the sky and let the energy flow into your body. The amazing impressive view really makes you feel like a bug among this humongous magnificence. After that-acquainting with ways of utilizing green agave, left from the pre-Spanish times. Lunch at a picturesque restaurant. After lunch-departure to Tula de Allende-mystical and real, to this day not explored by many city-an ancient capital of Toltecas. Viewing of a Tlahuizcacoantecuhtli pyramid, which the famous Tula Atlases-stone statues of strange human figures 14 feet in height- stand upon. Many intriguing details can be discovered on the figures of these stone giants...After this-heading to the Tolantongo Canyon. Here you will see Mexico in all its beauty! Arrival and accommodation at the hotel for 1 night. Your hotel is located on the bottom of the Tolantongo Canyon on a shore of azure warm waters of a river by the same name. Evening swim in this magical river. (Breakfast included).
Day 06. Tolantongo Canyon-Huasca de Ocampo. Breakfast at the hotel. Today you will have a heavenly relaxation and enjoying of a unique nature of Tolantongo canyon. You are awaited by landscapes of amazing beauty, hot natural streams, unique swimming pools lost in green Cordilleras of Hidalgo State, azure warm waters of Tolantongo River, mountain tunnel and a karst cave-breathtaking natural saunas. Here are over 30 individual pools, artistically built into an amazing mountain jungle and filling with natural waters of constantly running warm river, escaping from the mountain and streaming with multiple cascades, falling into the pools. Swimming in these mineral warm mountain pools, you will slowly watch all the panoramic beauty of the canyon spreading below. You will observe the flight of powerful condors, flying over their natural territory. You will hear spellbinding chirping of unknown mountain birds, sometimes showing off their colorful feathers and lightning fast hiding in the overhanging trees-giants mulato. Being here, in this tall mountain jungle, you will view a breathtaking low jungle of a Tolantongo canyon down below, pierced by a bright azure river. That is where your destination lays, and we will walk it slowly in about 40 minutes down a forest path, which is located in this wonderful tropical forest-a real magic of nature. The way is not difficult, since we are going downhill. Hot streams, breaking through onto a surface in these places are probably the only obstacle, which everyone will easily overcome. On the way viewing of unusual trees, whose trunks are almost completely red; it would take 5-6 people to wrap around these trunks, wild banana stems completely covered with small red fruit. The path goes deep into the jungle, then leads us out onto the open observation decks-get your cameras ready! It is impossible to describe these breathtaking views. The whole ecosystem of Tolantongo on a palm of your hand! Further,on our way lies along an azure river, where the steam above it and covering the surrounding mountains tells about the comfortable temperature of the water. We continue our way to the most unusual pedestrian mountain tunnel, to a cave-sauna and to multiple beautiful waterfalls. You are awaited by a cave with a temperature of a sauna on the inside and cool multi-feet in height waterfalls, around are majestic mountain peaks. Lunchtime at a mountain restaurant. After the lunch-departure for Huasca de Ocampo-a colonial city, added to the list of "Magical Cities of Mexico". The legends still live in this city, built by the English over 250 years ago, and the historical past takes on a new life, reflecting in the modern times. The atmosphere of Huasca de Ocampo -a surprising symbiosis of English traditions of the past with the present Mexican air, a mysterious mountain fog and the magic of surrounding nature. Arrival at the antique hacienda-hotel and accommodations for 1 night. (Breakfast included)
Day 07. Hacienda San Miguel Regla-Basaltic Prisms-Cholula-Puebla. Breakfast at the hotel. Acquainting with a unique hacienda San Miguel Regla-a luxurious "witness" to history and wealth of Mexico. After that, we will visit Basaltic Prisms-a natural phenomenon, which will leave no one untouched, since it appears that it was made not by nature but by some powerful giant from a fairy tale. Basaltic Prisms of Hidalgo State are added to the list of "13 Natural Wonders of Mexico". Fantastic stone columns, over 155feet high, formed by cooled lava several millions of years ago, when during a volcano eruption this cooling happened very rapidly and it fell on the bottom of the canyon. Basaltic Prisms are bathed by waterfalls, formed by the river San Antonio Regla, which crawls down various columns in several sleeves, forming natural pools. Any willing can take a breathtaking canopy-tour over the Basaltic Prisms canyon. Further departure to Puebla State, to the city of Cholula, known for its ruins of a large multi layer Pyramid, located at the foot of the Popocatepetl volcano. Viewing of a pyramid and a catholic temple, built on its top. Transfer to the city of Puebla-more Spanish than Spain itself. Multiple churches and monasteries in a style of Spanish baroque, with colorful facades, narrow streets, small squares and cozy cafes, where every evening local intellectuals get together. Evening arrival and accommodation to a hotel for one night. Pedestrian walk around the evening Historical Center of the city. Colorful bright colors-is a distinguishing feature not only of a local Pueblanian style, but also of a Mexican architecture as a whole. (Breakfast Included)
Day 08. Puebla - Eyipantla Waterfall - Catemaco Volcanic Lake. Breakfast at the hotel. Departure to Veracruz State, to Catemaco-a small colorful city, located on a shore of a lake by the same name and surrounded by virgin jungle. The road weaves through the jungle, crosses rivers overgrown with mangrove groves. The road view opens up to breathtaking panoramas of an active volcano Pico de Orizaba. Lunchtime at a typical Mexican restaurant. Visit to a Salto de Eyipantla waterfall. It is here where some of the scenes of the movie "Apocalypto" were shot. Observation of the waterfall from a hanging bridge, after which we descend, closer to the waterfall, walking about 240 stairs. The surrounding nature is just mindboggling! After that, we are going to the hotel, located on a shore of a wonderful Catemaco Lake. Accommodation at the hotel for 2 nights. All people that desire to, can order Temascal-a traditional Indian sauna, "a house of hot rocks". Temascal is much more than a sauna-it is an only Indian ritual, which is being practiced to this day around the whole Mexico. (Breakfast included)
Day 09. Catemaco Lake-Monkey Island-Nanciyaga Sanctuary. Breakfast at the hotel. Today you will go on a wonderful boat trip down the Catemaco Lake with a visit to Monkey Island, and on the way see the Agaltepec Island, which served as a place of pilgrimage in the ancient times and reminds of a crocodile in its shape. After that, we will visit a Nanciyaga Sanctuary, located in a richest tropical jungle of a Veracruz state, which served as a filming location during a creation of "Medicine Man"-a famous movie with Sean Connery. You will walk down mountain forest trails, feeling the magical force of interaction with virgin nature, observing astonishing flora and fauna. Following swimming in mineral streams and applying natural mud masks with a mineral complex, organic matters and microelements. The day will end with excellent relaxation in the most romantic ecological surroundings. You will discover many mysteries of the Mesoamerican people. Evening return to Catemaco. (Breakfast included)
Day 10. Catemaco - La Venta Canyon - Sima de Las Cotorras - Chiapa de Corzo. Breakfast at the hotel. Departure to the state of Chiapas - a wonderful storage of Mexican nature. You will get acquainted with unique ecosystem of El Cote rainforest and a Rio La Venta Canyon, formed by two rivers: Grijalva and La Venta. Today you will take a boat trip down a river, running down the La Venta Canyon - a geological split in the green mountains Sierra Madre with uniquely shaped vertical walls, which get so narrow at some point that it is only possible for one boat to go through, and in other points - forming through cave-tunnels, with multiple waterfalls running down all over them. You will reach a fantastic geological formation Arco del Tiempo, where you will feel the magic of a complete silence...only wind and amazing water, which color changes from olive-green to azure-turquoise are around you. The viewing of a biggest dam of Chiapas - Malpaco. Lunchtime. In the end of the day you will see a breathtaking wonder of nature - Sima de Las Cotorras (Sinkhole of Parrots), a gigantic hole in the ground 460feet deep, which simultaneously flocks of colorful green parrots rush into, committing their mysterious "ritual" of flying around this funnel three times. You just have to see this natural wonder of the world! In the morning, like by command, the birds chirping leave their unique location and head out to find a meal, returning to their abodes in the evening. Move to Chiapa de Corzo - a lovely colonial town, formed by conquistadors in 1528, and world renowned with its colorful carnival of soce people, famous fountain in a Moorish style, a huge Ceiba tree, called pochota and located on a shore of a Grijalva river and serving as gates to the Sumidero Canyon. Since 2012, Chiapa de Corzo has been a part of the "Magical cities of Mexico" list. Accommodation at the hotel for 1 night. Evening acquaintance with Chiapa de Corzo, viewing of an ancient monastery Santo Domingo de Guzman. (Breakfast included).
Day 11. Sumidero Canyon - San Juan Chamula - San Christobal de Las Casas. Breakfast at the hotel. Viewing of Sumidero Canyon from a bird's eye view. Spread-out panoramas from different observation decks are simply breathtaking! After that, you will go on a trip down the Grijalva River, flowing down the bottom of a canyon. Turn after turn, the canyon opens up to a view of even bigger cliffs, the tops of which bathe in sunlight - the sun never reaches the very bottom of the canyon, to the river level. First stop is a chapel of Our Lady of Guadalupe - a small cave in a mountain, a natural karst formation high above the water level. Second stop is a so-called "Christmas tree" - a natural growth on a cliff several hundreds of feet high, reminding of a Christmas tree in its shape. There, from the top of the tree, the water quietly flows down, and then with a loud noise drips in the river, sparkling in the sunlight with many colors of the rainbow. Then we follow to the cave of the Cross. The most amazing part of the canyon - its highest point - more than three thousand feet above the river level. In this exact point of the canyon, we will stop to listen to a hollow silence. Cliff-walls, covering the skies is a magnificent view! Further, on our trip lies into an unusual mystical city of Tzotzil Indians - San Juan Chamula. The village is famous for its church, in which in a very whimsical way intertwined together images of Catholic rituals with a hint of pre-Spanish beliefs. To this day in the walls of this church you can hear the prayers in Tzotzil and Lacandon dialects. After that, we follow to a town of San Cristobal de Las Casas, located high up in the mountains, with amazing architecture among the crowded mountains, with colorful houses along the long streets, with a wonderful combination of predominant Indian locale and luxurious forms of Spanish baroque. All this creates an unforgettable atmosphere, which is exactly the magical magnet that makes people return here again and again... San Cristobal de Las Casas was included in a list of "Magical cities of Mexico". Arrival and accommodation at the hotel - an antique Spanish hacienda - for 1 night. Evening stroll around the city. San Cristobal de Las Casas has been popular with its Indian mystique for a long time, and is a hang out location for bohemian youth from many countries around the world. To this day people of Maya live here following their traditions and beliefs. This is their land and their city. Without a spiritual Indian nature, there is no Mexico, and that is why in this city, just like in the whole country, you can feel a mix of paganism with Catholicism. The main landmarks of this city are its multiple churches, built in their unusual pseudo-catholic style. Evening pedestrian excursion around the city. (Breakfast included).
Day 12. San Cristobal - El Chiflon Waterfall - Lakes of Montebello. Breakfast - boxed lunch. Early departure to the El Chiflon waterfall which in translation from Spanish means "whistling", "humming" - one of the most picturesque waterfalls of Chiapas state. A trident of enormous waterfall streams on a green slope of the mountain range can be seen from far away, catching attention with its unique shape and location right in the middle of the mountain. You will get to the steepest and powerful stream of the waterfall at first by a concrete path with multiple observation decks, and then down a simple narrow mountain trail, which weaves around a mountain through a dense forest, forcing to overcome a steep ascent. But what you will see on the way...is simply magnificent...raging river, whirlpools, trees growing right from water, amazing rocks, whimsical tree roots... Besides the main El Chiflon waterfall, you will see several smaller beautiful waterfalls, falling into small mountain lagoons. After that - a short trip to the Montebello Lakes, a natural masterpiece of the state of Chiapas! You will visit an observation deck, which opens up to views of panorama systems of five mountain lakes, and you will take a boat ride down some of them, observing the virgin flora and fauna of a National Park Montebello Lakes. The names of the lakes speak for themselves: Charmed (La Encantada), Colorful Water (Agua Tinta) and Blue Forest (Bosque Azul). National Park Montebello Lakes is 6 thousand hectares of virgin coniferous forests, a unique ecosystem of 59 fantastic lakes, surrounded by evergreen mountains, endemic flora and fauna, richest world for ornithologists and simply lovers of exotic birds. Since 2009, the National Park Montebello Lakes is included in a number or biosphere preserves of UNESCO. Accommodations for 1 night at the eco-lodge, located in a National park Montebello Lakes. (Breakfast included)
Day 13. Montebello - Bonampak - Yaxchilan - Palenque. Breakfast. We continue our acquainting with a beautiful nature of Chiapas and its unique, lost in the jungle ancient Mayan cities. Your route lies along the border with Guatemala in order to visit two sacred cities: Bonampak and Yaxchilan. Bonampak is an ancient Mayan city discovered in 1946, and it is proud of its one and only in the entire Mesoamerica temple with brightly painted walls. Thanks to supremely well preserved wall painting, the scientists were able to reconstruct whole episodes from the lives of classic Mayas. Further, your way will take you down the Usumacinta River to the city of Yaxchilan, the only "lost" city in the jungle of Chiapas. You can only get here via the Usumacinta River, dividing Guatemala and Mexico. You will board the boat and go downstream, observing both shores and lives of simple Indians from the sides of Mexico and Guatemala. After landing ashore, you will walk down the jungle trails, which will lead you to the ruins of ancient Yaxchilan. You are awaited by fantastic nature, mystique of the past and an archaeological center, tracking over two thousand years. After visiting Yaxchilan, we move to Palenque. Evening arrival and accommodation at the hotel for 1 night. (Breakfast included)
Day 14. Misol Ha - Palenque- Gulf of Mexico - Campeche. Breakfast at the hotel. Departure to the Misol-Ha waterfall - it is here were the scenes from the movie "Predator" with Schwarzenegger were shot. The waterfall brings down its streams from a 125-feet height into a round lake, forming natural pools for swimming. The lake has extraordinary parameters: at a diameter of only 50feet, the depth of it is 80feet. After that, we are going on an excursion to the National park of the ancient city of Palenque. The shapes of most of its buildings can be barely discerned under a dense canopy of always-green jungle. But in the center of the city, in several places over the forest vegetation raise, like white phantoms, the ruins of the largest architectural structures of Palenque: a square, looking like a bell tower of an ancient cathedral, tower of a palace and elegant twin temples on tall pyramid bases - "Temple of Sun", "Temple of the Cross", and "Temple of Signatures." Countless clusters of buildings are strewn around a hilly plane, covered with a dense tropical forest and crossed by multiple rivers and streams, taking their beginning in the mountains. There is a combination of wild beauty of surrounding from all sides mountains, covered with jungle and tatters of fog, with beautiful even in a ruin state proportions of stone temples on the hills. The ruins of Palenque, appearing so suddenly among the endless forest ocean, completely boggle your mind. Here in front of you is a mystery of the centuries, a mystery of the civilization, which died out, disappeared, yet still miraculously continues to live in those grandiose structures. After visiting Palenque our way lies to a state of Campeche. On the way, we will stop for lunch. Part of the trip will lie along the Gulf of Mexico. Evening arrival to the capital of the state - a city of Campeche, located along the shore of the Gulf of Mexico. Accommodation at the hotel for 1 night. A walk around the Historical Center of the city and acquainting with its landmarks. Campeche has kept a tradition of Mexican timelessness. A city-port of a period of Spanish colonial ownership in the New World. (Breakfast included)
Day 15. Campeche - Uxmal - Spanish Haciendas. Breakfast at the hotel. Departure to Uxmal - one of the important ceremonial Mayan centers on the Yucatan peninsula. You will see majestic monuments of the pre-Spanish civilization on a territory of Mexico - The Great Pyramid, The Magician's Pyramid, a wonderfully preserved building of a Palace of the Ruler with his famous "throne of a two-headed jaguar", House of Turtles, field for a ball game, a rectangle of a Nun Monastery and a pyramid of an Old Witch. Lunchtime. After that, we will follow to a settlement of Chichen Itza. Getting acquainted with surrounding Spanish haciendas. Accommodation at a hotel - hacienda for 1 night. (Breakfast included).
Day 16. Ik Kil Lake - Tulum. Breakfast at the hotel. Early visit of the Ik Kil Lake, enjoying its Eco Park, and a swim in its clear waters of an underground lake. Move to Tulum into the boutique-hotel, located on a shore of the Caribbean Sea with a snow-white powder-sand. 2 hours on a trip. Arrival at the hotel at 13:00 and accommodation for 3 nights. Beach relaxation. (Breakfast included)
Days 17 - 18. Tulum. Beach relaxation on a shore of the Caribbean Sea. Here is the freedom! Swim where you would like to, even to Belize - and no one would say a word. Here everything is allowed - lay in white sand until self-combustion or swim in the warm sea until getting dissolved, race the waves behind a kite or on a board. It is an endless sea scope, warm constantly blowing breeze, and interesting structures by ancient Mayas built right over the sea and rigorously guarded by countless iguanas. Walking along the beach you will find rows of quaint little shops, cafes and restaurants, located right on a snow white sand, which you can visit right in your bathing suit, since it is the most appropriate type of dress in this location. Here you can open the balcony door and fall asleep to the sounds of the waves and rustling of narrow leaves of long-legged palms. You can also hand feed well natured pelicans, which step on a shore after darting into the sea for their favorite dish, and observe them hover in the sky in a flock or by themselves. The sun, setting behind the palms, is an unforgettable sight. Its last rays break through carved ornate leaves, creating whimsical designs in the sand, and only high brightly lit clouds bask in its warmth. (Breakfast included)
Day. 19. Tulum - Cancun. Transfer to the airport of the city of Cancun. Departure home. (Breakfast included)
Rates per person in USD
Double occupancy DBL
Request
Single occupancy SGL
Request
Price includes:
18 nights at charming hotels with breakfast.
Sightseeing as indicated, with an English-speaking guide.

Russian or Spanish guide - by inquiry.

Surface and overland travel as indicated.
Daily transport according to the program.
Entrance fee according to the program.
Drinking water during the tours.
Luggage handling at airport.
Radio-guide and individual headphones (for a group of 10)
Price does NOT include:
International flight.
Meals NOT mentioned in the program.
Cost of additional tours and visits along the route.
Tips to drivers, guides, hotel bellboys.
Tour insurance.

Offered for an extra charge.
What you should bring:
Shoes well closed around the ankles.
Two pairs of comfortable walking shoes with rubber soles.
Light clothes for the hiking.
Light and ventilated thick cotton socks.
Swimming suit is important.
A small backpack with: sunglasses, solar protector, band-aid, repellent, camera, towel, regularly taken medicine.
Observation:
The price of a tour can be requested using a Request Form located at the bottom of the page of each tour on the website. The price of the tour depends on a number of people in a group and on a volume level of a tourist season.
Tour payments are only accepted in bank transfers to the bank of Milavia International, Ltd in the USA. The currency for payments is $US.
The full payment for an individual tour (1 to 7 people) has to be made 40 days in advance (beginning of the tour) in a low season, and 60 days in advance in high and peak travel seasons (national holidays and celebrations, Christmas, New Year, Carnivals).
Full payment for a group tour (8 to 50 people) has to be made 90 days in advance in both low and high-level travel seasons.
Cancellation and monetary refund policy:
Cancellation request of the tour must be sent by e-mail address: milaviainter@gmail.com
Cancellation of a ground part of the tour program 44 - 35 days before its beginning: full monetary refund with the exception of the expenses spent on refund registration and banking operations.
Cancellation of a ground part of the tour program 34 - 15 days before its beginning: 50% monetary refund with the exception of the expenses spent on refund registration and banking operations.
Cancellation of a ground part of the tour program 15 days before its beginning and a NO SHOW: no monetary refund would be offered.
Cancellation due to extreme weather conditions: no monetary refund would be offered.
Tour operator strongly recommends to purchase the tour insurance and offers it for an additional fee. The tour buyer has the right to choose any insurance company.
The tour buyer is fully responsible for tour insurance purchasing or refusal of thereof.
Any claim must be made in writing within 15 days after the tour.
Health Problems:
If the passenger has health problems or physical limitations of any kind, it is essential to let Milavia International, Ltd know at the time of booking.
Passengers with heart and orthopaedic problems are not recommended to this tour.
Milavia International, Ltd reserves the right to remove any individual at any time during the tour if she/he is physically incapable to participate in the planned activities.
Milavia International, Ltd. assumes no responsibility for special arrangements.
Our Pictures from previous tours:
http://www.milaviainter.com/en/mex8.php
http://www.milaviainter.com/en/mex.php
http://www.milaviainter.com/en/mex4.php