COSTA RICA - CENTRAL AMERICAN JEWEL!
If your soul craves relaxation, this is the vacation you have been looking for...
7 days / 6 nights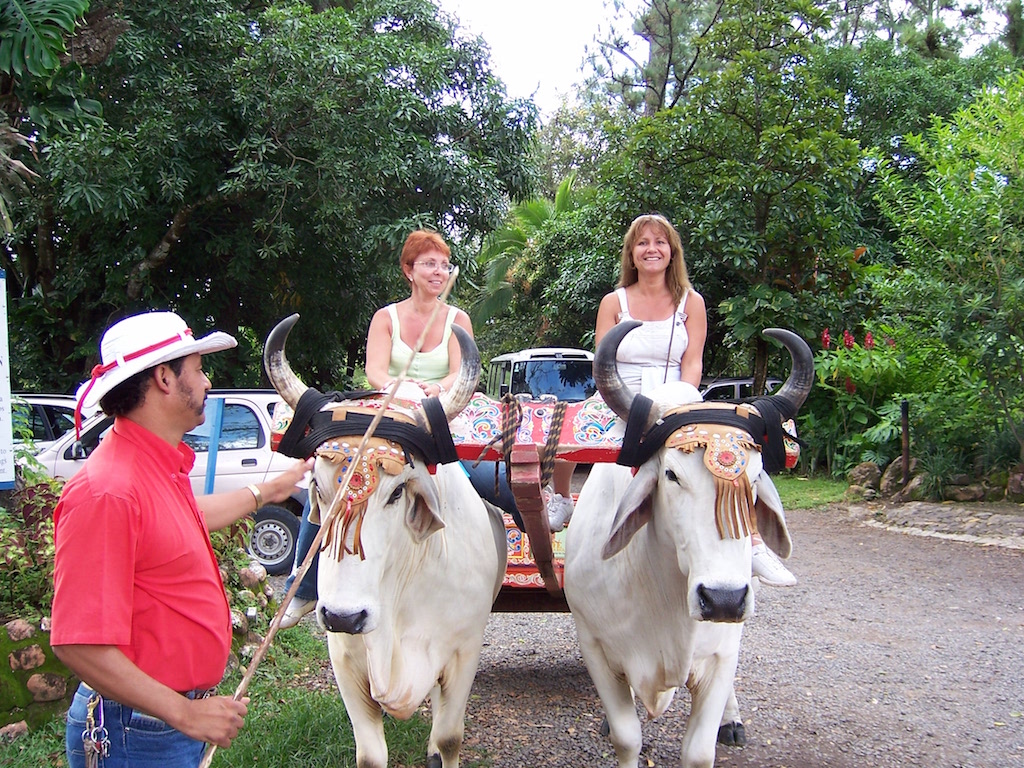 Poas Volcano National Park considered by most to be one of the most breathtaking sites in the entire country and the hike to Botos Lagoon.
La Paz Waterfalls Garden with a colorful Butterfly Farm.
Arenal Volcano and thermal streams.
Jungle Crocodile Safari - What a fantastic experience!
Manuel Antonio Park and relaxation on the shores of the Pacific Ocean.
Campesinos Reserve - untouched Costa Rican jewel.
Day 01. San Jose. Arrival to San Jose. Meet up at the airport, transfer to the hotel and lodging for 1 night. Your hotel is a beautiful resort and spa situated on 40 acres of manicured tropical gardens and trails with rivers and waterfalls. Leisure time. Stroll through botanic gardens interspersed with sculpture. Hike over 4 kilometers of private scenic trails to intimate river view and dramatic waterfalls. Visit hotel's orchid house and greenhouse. It will be wonderful for the mind, the soul, the heart and the eyes.
Day 02. Poas Volcano National Park - La Paz Waterfalls Garden - Arenal Volcano. Breakfast at a hotel. Departure to the Poas Volcano National Park. Poas volcano is a powerful symbol of geothermal forces that formed Costa Rica. Scenic drive to the top of Poas, one of the world's widest accessible volcanic craters. Stand on the edge and look down into the bubbling blue cauldron. This volcano, whose crater reaches 1.5 km in diameter periodically spews from its depths columns of steam and gas. However, the climb to the crater is completely safe for the tourists. Poas is surrounded by a cloudy tropical forest: ancient trees stand alongside with beautiful orchids and bromeliads. Here giant umbrella-leafed gunnera has gained a name for itself «an umbrella for the paupers», thanks to its huge leaves. Surrounded by coffee plantations, Poas volcano is majestically rising 8878ft above the sea level. The view of a main crater of the volcano, and a turquoise lake hiding inside it, will definitely leave a lasting impression in your mind. The 2nd crater, Botos, is a crystal clear rain-fed lake surrounded by jungle that is reached by a walk through a dwarf cloud forest. Next - visiting La Paz Waterfalls, Butterfly Farms and feeders, with myriads of hummingbirds flocking around them. Lunch is a buffet, which consists of traditional Costa Rican meals at a mountain restaurant with natural cascades of a flowing downwards river. After lunch - transfer to the area of the Arenal Volcano - one of the youngest volcanoes of Costa Rica. This area is designated as a special park-natural habitat. Volcano Arenal is a tall mountain of a perfect conical shape. At night Arenal gets illuminated by the pouring out magma, and during the eruption lights up all the areas around it. However, not everyone can see the eruption as the volcano is often covered by clouds. Arenal heats the water for the hot streams, which are located under unique pools. Your hotel is so conveniently located, that you can see a panoramic view of the Arenal straight from your windows, and the tropical jungle will open its embrace. Lodging for 2 nights. (Breakfast and lunch included)
Day 03. Arenal - Thermal pools. Breakfast at a hotel. Any tours of your choice: «Hanging bridges of Arenal», «A journey to Arenal volcano», «A boat trip down the Arenal lake», «Horseback riding to La Fortuna Waterfalls» - this is a good combination of horseback and hiking in a beautiful scenario, «Canopy tour», then we will depart to an incredible and unforgettable world of best thermal spas in a country, where you can take relaxing baths in multiple natural pools, surrounded by unbelievably beautiful tropical greenery. Enjoy therapeutic thermal streams with water enriched by minerals! Four major life-giving elements joined here, creating a divine place for getting away from all the mundane problems, for physical and spiritual relaxation, and replenishing of personal energy. It is a boiling energy of the Arenal volcano, plus thermal waters of the river, which takes its beginning at the foot of the volcano, plus a charming flora and fauna of a surrounding moist tropical forest and peaceful aroma in the air. It is true when they say that this is Gods' playground and relaxation spot. Here we will spend the rest of the day. Return to the hotel. (Breakfast, lunch, and dinner included)
Day 04. Arenal - Jungle Crocodile Safari - Manuel Antonio. Breakfast at a hotel. Departure to the Pacific Ocean coast of Costa Rica, to a territory of Manuel Antonio National park. The road is incredibly beautiful, and lays serpent-like along the mountains that blend with a horizon. The landscapes are so picturesque, that they remind of masterful hand of a skilled artist. Along the road there are numerous peasant shops with tastiest domestic cheese and plentiful Costa Rican natural sweets. During our casual stops, you will have time to enjoy communication and consumption of this country's culinary treasures. Your travel will continue until the Rio Grande de Tarcoles. Here you will get a two-hour croc-spotting trip upriver aboard a pontoon boat. What a fantastic experience! You will see all manner of birds, such as roseate spoonbills, whistling ducks, jabirus storks; even scarlet macaws as you sidle upriver, spotting for crocodiles. You will have a chance to observe enormous crocodiles from a safe but close distance. The three largest— named Mike Tyson, Fidel Castro, and Osama Bin Laden—are five meters long and guard their turf and harems at recognized holes. Your guide will step ashore into the gooey mud and draw one of these giants up onto the bank to snatch chicken from his hand! You will also get to see iguanas. On the way downstream, the boat heads along the Estero Guacalillo, a most awesome mangrove ecosystem that features four different species of mangrove trees. In addition to sightseeing, photography and videotaping are permitted. Time for lunch. After lunch, you will continue your way to a popular tourist town of Quepos, located next to the Manuel Antonio National park. A stop at a unique spot-a restaurant-airplane, which opens to magnificent views to Manuel Antonio bay. Time to take pictures. Arrival to the hotel and lodging for the next three nights at a lovely hotel perched atop the highest point in Manuel Antonio and well known for its huge view of the Pacific. Settle in or take a dip in one of the pools. (Breakfast and lunch included)
Day 05. Manuel Antonio Park. Breakfast at a hotel. A tour to Manuel Antonio Park. Small in its area, Manuel Antonio contains a charming combination of rain forest, magnificent beaches and a clean ocean. The forest is home for sloths, sleepily hanging from among the leafy depths, iguanas, the rare and adorable squirrel monkeys and millions of colorful little crabs. And the trail that winds around Punta Catedral affords some spectacular views. Here you can freely observe white-faced monkeys and pizotes (is a species of coati) - peculiar animals that walk around without any fear of humans. The main attraction of this park is its 4th beach. After the acquaintance with the park, there will be some leisure time on a best beach of the island. (Breakfast included)
Day 06. Manuel Antonio – Campesinos Reserve. Breakfast at a hotel. This morning, a 90-minute drive transports you to the small town of Londres where you beginning your hike in the gorgeous Campesinos Reserve. The surrounding landscape offers a beautiful primary and secondary forest which intrigued you to hike the trails up to a lookout with a fascinating view over the lush vegetation The reserve, located in a picturesque mountain range between the Naranjo and Savegre Rivers, is managed by a local Costa Rican family. Upon reaching Campesinos, you have an opportunity to swim in a natural pool at the base of a spectacular waterfall and explore a former vanilla plantation bordering the reserve. Then, you will have a delicious lunch – the food is all home made right in their kitchen. After lunch, you continue hiking toward the Savegre River, where you make use of an "andarivel" – a type of hand-operated metal tram suspended by ropes – to cross the fast-flowing river en route to the end of the trail. Be brave and cross the 40 meter high hanging bridge. Enjoy an amazing view over the beauty of the Central Pacific valley! Return to Manuel Antonio. (Breakfast and lunch included)
Day 07. Manuel Antonio - San Jose. Breakfast at a hotel. Now here is the big decision: Go home... or stay on? If you must return home, then enjoy the morning in Manuel Antonio ... later in the afternoon check out and be transferred (4 hrs) to the airport of San Jose for your return flight to HOME.
On the other hand, if you decide to stay on, that's great, and there is a lot to choose from. Our recommend extension is a 3 night package to:
Corcovado National Park, the largest of Costa Rica's parks, it encompasses about a third of the Osa Peninsula and embraces an unbelievable amount of its biodiversity.

The best time to visit is when the park receives the least amount of rain, which is from January to April.

From May to December the park receives the most precipitation which can leave some of the trails unrecognizable.
Tortugero National Park, the most important nesting site of the green sea turtle on Costa Rica's Atlantic side. The park is also home to a variety of animal species including jaguars, macaws, tapirs, many species of birds, reptiles, and other mammals.
Nauyaca Waterfalls and Marino Ballena National Park. These majestic waterfalls are one of the main attractions of the southern region in Costa Rica, not only for their natural scenic beauty, which offers the tourist moments of recreation and fun, but also to participate in different activities such as horseback ridign tours, swimming, climbing, jumping and to observe much of the beauty of the tropical rainforest, among others. Marino Ballena National park contains the largest coral reef on the Pacific side of Central America. The park's waters are also great vantage points for viewing the humpback whale as it migrates (Dec. to April) from as far away as Alaska and Hawaii.
Rates p/person
Double occupancy DBL
Request
Single occupancy SGL
Request
Price includes:
6 nights at the hotel with breakfast buffets.
4 full lunches during the tours.
1 full dinner during the tour.
Daily transport according to the program.
English speaking guide on transfers and tours. Russian or Spanish guide - by inquiry.
Entrance fee according to the program.
Price does NOT include:
International flight.

The cost is confirmed during the tour reservation.

Airport Tax departure - $28 per person. When you leave Costa Rica, you will have to pay a departure tax of $28 USD.
Meals NOT mentioned in the program.
Cost of additional tours and visits along the route.
Tips for the guides and attending personnel at the hotel.
Tour insurance.

Offered for an extra charge.
What you should bring:
Shoes well-closed around the ankles.
Two pairs of comfortable walking shoes with rubber soles.
Light clothes for the hiking.
Light and ventilated thick cotton socks.
Swimming suit.
A small backpack with: sunglasses, solar protector, band-aid, repellent, drinking water, camera, towel, regularly taken medicine.
Observation:
The best time to visit is from December to April, when the chances of enjoying the tour are greater.
This is a simple program. Combine it with other programs, add days or destinations. Milavia International will design your trip just for you.
We recommend extending the program in any direction – Costa Rica, Panama, Nicaragua, Colombia or any other Latin American country.
Your final price depends on:
How many people will be in your self formed group.
What tourist season or holidays are involved.