VACATIONS OF NOBILITY
The most special, romantic and passionate experience in your life...
The sun, the sand, the sea, the forest, and all the variety of wildlife come together in one place...
7 days / 6 nights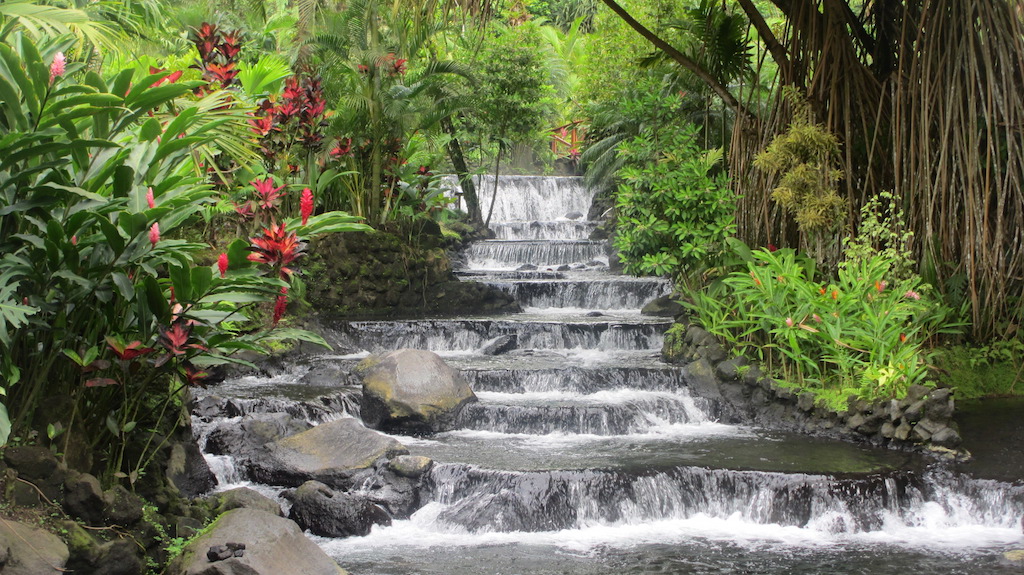 Magical experience - plenty of exciting adventures to be lived every day.
Combination of art and architecture, landscape and hospitality, efficient and relaxed yet always dignified service.
Exquisite charming hotels.
Freedom of expression bursting everywhere likes flowers, the spilling of bold color.
Poas Volcano National Park and a cloudy tropical forest.
Paz Waterfalls, Butterfly Farms and feeders, myriads of hummingbirds.
Private Wildlife Refuge and your fresh water fishing at Trout Lake.
The Arenal Volcano and unforgettable world of best thermal spas in Costa Rica.
The Waterfall rappelling alongside of canyon on a jungle trail.
Horseback Ride to La Fortuna Waterfall.
Eighteen freeform, landscaped pools with great views of the Arenal volcano.
Central Pacific Coast - a truly unique combination of mountain and private beach.
Day 01. San Jose. Arrival to San Jose. Meet up at the airport, transfer to the hotel and lodging for one night. Your hotel is a beautiful resort and spa situated on 40 acres of manicured tropical gardens and trails with rivers and waterfalls. Leisure time. Stroll through botanic gardens interspersed with sculpture. Hike over 4 kilometers (2.5 miles) of private scenic trails to intimate river view and dramatic waterfalls. Visit hotel's orchid house and greenhouse. Your spacious villa, surrounded by gardens, has a large view terrace for enjoying the sunset and lights of the Costa Rican Central Valley at night, plus a walled-in terrace for privacy and solitude. It will be wonderful for the mind, soul, heart and eyes. How about hot tubs on the hillside? Enjoy magical spa and romantic dinner in intimate and elegant simplicity with a panoramic view. Many of the fruits and vegetables are from hotel's own organic greenhouse, orchard and gardens.
Day 02. Poas Volcano National Park - La Paz Waterfalls Garden - Private Wildlife Refuge. Breakfast at a hotel. Departure to the Poás Volcano National Park. Poás volcano is a powerful symbol of geothermal forces that formed Costa Rica. Scenic drive to the top of Poas, one of the world's widest accessible volcanic craters. Stand on the edge and look down into the bubbling blue cauldron. This volcano, whose crater reaches 1.5 km (1 mile) in diameter periodically spews columns of steam and gas from its depths. However, the climb to the crater is completely safe for you. Poas is surrounded by a cloudy tropical forest: ancient trees stand alongside with beautiful orchids and bromeliads. Here giant umbrella-leafed gunnera has gained a name for itself «an umbrella for the paupers», thanks to its huge leaves. Surrounded by coffee plantations, Poas volcano is majestically rising 8878ft above the sea level. The view of a main crater of the volcano, and a turquoise lake hiding inside it, will definitely leave a lasting impression in your mind. The second crater, Botos, is a crystal clear rain-fed lake surrounded by jungle that can be reached by a walk through a dwarf cloud forest. Next-visiting La Paz Waterfalls, Butterfly Farms and feeders, with myriads of hummingbirds flocking around them. Here you can feed toucans and hummingbirds by hand, release newly hatched butterflies into their first flight, look straight into the eyes of a jaguar and observe the brilliant colors of a red eyed leaf frog from just inches away. Enjoy a traditional Costa Rican meal at a mountain restaurant with natural cascades of a flowing downwards river. After lunch you will follow a symphony of purely Costa Rican experiences celebrating the natural wonders of the rain forest with Five Waterfalls, Trout Lake and Casita de la Paz. La Paz Waterfall Gardens was nominated as one of the seven natural wonders of Costa Rica. After these fantastic experiences you will be accommodated at the magical lodge located within the private wildlife refuge where every room is boasting a Jacuzzi tub and stone fireplace along with showers that transform into waterfalls with the turn of a knob. Here every magical sight, wondrous smell and sensual touch create the ultimate awakening of your senses. To insure your enjoyment of the cool mountain weather and view of the Poás Volcano, you will have oversized balconies complete with rocking chairs, hammocks and custom Jacuzzi tubs. The experience continues with your fresh water fishing at Trout Lake and catches for your dinner or just has some fun! Imagine your own private trout lake with its own bartender. You can order a cocktail while casting a line. You can even take a swim in the cold lake and then jump into the hot Jacuzzi afterward. It is great entertainment with beautiful scenery. Your rainbow trout will be prepared in any way you would like. Lodging for one night. (Breakfast included)
Day 03. Arenal area - The best Thermal Spa. Breakfast at your hotel. Transfer to the area of the Arenal Volcano - one of the youngest volcanoes of Costa Rica. This area is designated as a special park - natural habitat. Volcano Arenal is a tall mountain of a perfect conical shape. At night Arenal gets illuminated by the pouring out magma, and during the eruption lights up all the areas around it. However, not everyone can see the eruption as the volcano is often covered by clouds. Arenal heats the water for the hot streams, which are located under unique pools. Your hotel is so conveniently located, that you can see a panoramic view of the Arenal straight from your windows, and the tropical jungle will open its embrace. Today you will visit and relax an incredible and unforgettable world of best thermal spas in a country, where you can take relaxing baths in multiple natural pools, surrounded by unbelievably beautiful tropical greenery. This is completely natural. Water flows by gravity throughout the property, forming in-river pools, waterfalls, and cascades and filling in the pools throughout the resort. As the underground river flows through the magma in the Arenal volcano, the springs absorb minerals. Hot springs provide many benefits stemming from various chemical, physical and biological effects, the most notable is relaxing tense and tired muscles. Enjoy therapeutic thermal streams with water enriched by minerals! Four major life-giving elements joined here, creating a divine place for getting away from all the mundane problems, for physical and spiritual relaxation, and replenishing of personal energy. It is a boiling energy of the Arenal volcano, plus thermal waters of the river, which takes its beginning at the foot of the volcano, plus a charming flora and fauna of a surrounding moist tropical forest and peaceful aroma in the air. It is true when the locals say that this is a Gods' playground and relaxation spot. Lodging for two nights. Your hotel is the finest hotel in the Arenal area. Arenal Nighttime eruptions are the most spectacular and can be viewed from the bed in every room. (Breakfast and lunch included)
Day 04. Arenal - Waterfall Rappelling Tour - Horseback Ride to La Fortuna Waterfall. Breakfast at your hotel. While other people enjoy the pools and scenery of the hotels grounds, you will get the most beautiful The Waterfall Rappelling tour, unique and a lot of fun. Your trip begins with a 30-minute 4x4 drive into the tropical rainforest outside the town of La Fortuna, in the shadow of the Arenal volcano. You trek through the forest trails that lead to some of the most spectacular waterfalls in Costa Rica, a place very few people get to experience. Along the way you will have a chance to discover the secrets that lie hidden deep within the canyon. From the first waterfall you will rappel down from the top into the beautiful and pristine canyon below. Here you will have four rappels, three of which are alongside of the canyon on a jungle trail, and one dry rock face. Then you will enjoy a pleasant Horseback Ride to La Fortuna Waterfall through both pastures and rainforest; keep your eyes peeled for toucans, monkeys and other creatures. La Fortuna Waterfall emerges from dense jungle greenery before plummeting some 200 feet (65 m) into an emerald pool below. You will be able to enjoy a swim in the fresh and somewhat chilly pool. Once swims have been had, picnics have been eaten and photos have been snapped, the horseback ride will continue onto a large private farm. There will be more opportunities to enjoy the scenery and wildlife that surrounds the Arenal volcano. Return to your hotel and enjoy eighteen freeform, landscaped pools which provide you with great views of the volcano and a multitude of options. You can find the perfect pool for your mood and the current weather conditions. (Breakfast and lunch included)
Day 05. Arenal - Central Pacific Coast. Breakfast at your hotel. Today you will be transported through scenic countryside to the favorite regions for nature lovers is best known for the colorful flocks of scarlet macaws. Here is a truly unique combination of mountain and private beach. You will see stunning 360 degree views over the Gulf of Nicoya, Nicoya Peninsula and the beautiful beaches. You are welcome to a fabulous hotel with a magnificent view from the mountaintop; the rainforest spreads toward the beautiful sandy beach. The dark-emerald green vegetation contrasts with the blue Pacific Ocean, and the tropical rain forest becomes the best complement for the most beautiful sunsets you can witness. Your hotel has luxurious suites, surrounded by lush rainforest and a pool with infinity edge that makes the sea, pool and sky merge and become one. Submerge yourself in the sea by diving into this blue water "infinity" pool, which creates the illusion of being part of the ocean. To make it even more impressive, it can be seen in a small waterfall, an island with tropical plants and natural flooring made from rocks. Refresh your mind, body and spirit, take your time to relax and enjoy hotel's Spa treatments, let your body and soul are immersed in a world filled with peace and nature... close to heaven. Lodging for two nights. (Breakfast included)
Day 06. Central Pacific Coast - Playa Herradura. Breakfast at your hotel. Today you can relax poolside. Balance of the day free to relax or explore at your own pace. It will be nice to visit nearby beaches or visit the Carara Biological Reserve with exotic wildlife. Carara's uniqueness in species and fauna is due to the fact that it lies in a transitional zone separating the Pacific rainforest from the northwestern tropical dry forests. A birders paradise, Carara is home to more than 400 species of birds. You will also have the chance to see armadillos, anteaters, agoutis, sloths, white-faced monkeys, howler monkeys, spider monkeys, iguanas, white-nosed coatis, basilisks (jesus lizards), and many other species that inhabit its varying ecosystems. (Breakfast included)
Day 07. Central Pacific Coast - San Jose. Breakfast at your hotel. Now here is the big decision: Go home... or stay on? If you must return home, then enjoy the morning in your hotel... later in the morning check out and be transferred to the airport of San Jose for your return flight HOME. On the other hand, if you decide to stay on, that's great, you are so close... and there is a lot to choose from:
Enjoy very special vacation days at unique Hotel-Home - Boeing 727. This is the most exclusive hotel suite in Costa Rica nestled on the edge of the National Park on a 50-foot pedestal. At this height, you will enjoy scenic ocean and jungle views from the hard wood deck built atop the plane's former right wing. The plane's interior is Costa Rican teak paneling from the cockpit to the tail. Furnishings are hand-carved, teak furniture from Java, Indonesia. The 727 home features two air conditioned bedrooms--one with two queen sized beds and the other with one queen sized bed, each with its own private bath—a flat screen TV, a kitchenette, dining area foyer; an ocean view terrace; a private entrance up a river rock, spiral staircase; and 360 degrees of surrounding gardens.
Manuel Antonio National Park contains a charming combination of rain forest, magnificent beaches and a clean ocean. The forest is home for sloths, sleepily hanging from among the leafy depths, iguanas, the rare and adorable squirrel monkeys and millions of colorful little crabs. Here you can freely observe white-faced monkeys and pizotes (is a species of coati) - peculiar animals that walk around without any fear of humans.
Nauyaca Waterfalls and Marino Ballena National Park. These majestic waterfalls are one of the main attractions of the southern region in Costa Rica, not only for their natural scenic beauty, which offers the tourist moments of recreation and fun, but also to participate in different activities such as horseback riding tours, swimming, climbing, jumping and to observe much of the beauty of the tropical rainforest, among others. Marino Ballena National park contains the largest coral reef on the Pacific side of Central America. The park's waters are also great vantage points for viewing the humpback whale as it migrates (Dec. to April) from as far away as Alaska and Hawaii.
Playa Nicuesa on the Osa Peninsula: lush, green vegetation as far as the eye can see, with leaves as big as elephant ears. Jade colored water. Toucans, monkeys, iguanas, dolphins, majestic blue butterflies. If physical challenge is what you want... it's here. If rest and relaxation is what you need... it's here.
Corcovado National Park, the largest of Costa Rica's parks, it encompasses about a third of the Osa Peninsula and embraces an unbelievable amount of its biodiversity. The best time to visit is when the park receives the least amount of rain, which is from January to April. From May to December the park receives the most precipitation, which can leave some of the trails unrecognizable.
Tortuguero National Park is often compared to as the "Amazon of Costa Rica" for its rich vegetation, fauna and the navigable network of lagoons and canals that cross the National Park from Southeast to the Northwest.
Additional Days: Jungle Adventure in a South-Caribbean rainforest with unforgettable thrills of driving ATV's, hiking and canyoneering through the jungle, climbing and rappelling trees and waterfalls, swimming in natural pools, taking a canopy tour, and doing the famous Tarzan swing. This will be your own "The Lost World".
Rates p/person
Double occupancy DBL
Request
Single occupancy SGL
Request
Price includes:
6 nights at charming hotels with breakfast.
2 full lunches.
Sightseeing as indicated, with English speaking guide.
Surface and overland travel as indicated.
Daily transport according to the program.
English speaking guide on transfers and tours.

Russian or Spanish guide - by inquiry.

Entrance fee according to the program.
Luggage handling at airport.
Price does NOT include:
International flight. The cost is confirmed during the tour reservation.
Airport Tax departure - $28 per person.

When you leave Costa Rica, you will have to pay a departure tax of $28 USD in person.

Meals NOT mentioned in the program.
Cost of additional tours and visits along the route.
Tips to drivers, guides, hotel bellboys.
Tour insurance.

Offered for an extra charge.
What you should bring:
Shoes well-closed around the ankles.
Two pairs of comfortable walking shoes with rubber soles.
Light clothes for the hiking.
Light and ventilated thick cotton socks.
Swimming suit.
A small backpack with: sunglasses, solar protector, band-aid, repellent, drinking water, camera, towel, regularly taken medicine.
Observation:
The best time to visit is

from December to April

, when the chances of enjoying the tour are greater.
This is a simple program. Combine it with other programs, add days or destinations. Milavia International will design your trip just for you.
We recommend extending the program in any direction - Costa Rica, Panama, Nicaragua, Colombia or any other Latin American country.