Huasteca Potosina
One never seizes to wonder how some countries are headquarters for incredible natural wonders while others can be devoid of any natural wonderment at all, and are only known for man made structures, developed industry, and nothing but beaches. For many years Costa Rica has been attracting tourists with its active volcanoes, white-faced monkeys, mountain landscapes, and turquoise Rio Celeste River, while Guatemala-with its Semuc Champey cascades and Mayan pyramids. Those visitors are unaware that the same magnificent natural and manmade wonders, even on a more grandeur scale and much more accessible, are located in Mexico-a land of stunning nature and talented people.
Micos River. Huasteca Potosina.
Mexican nature park Huasteca Potosina alone contains water cascades of Costa Rica, mountain landscapes of Guatemala, and rainforests of Panama, as well as its own beautiful animal world unique only to this striking area.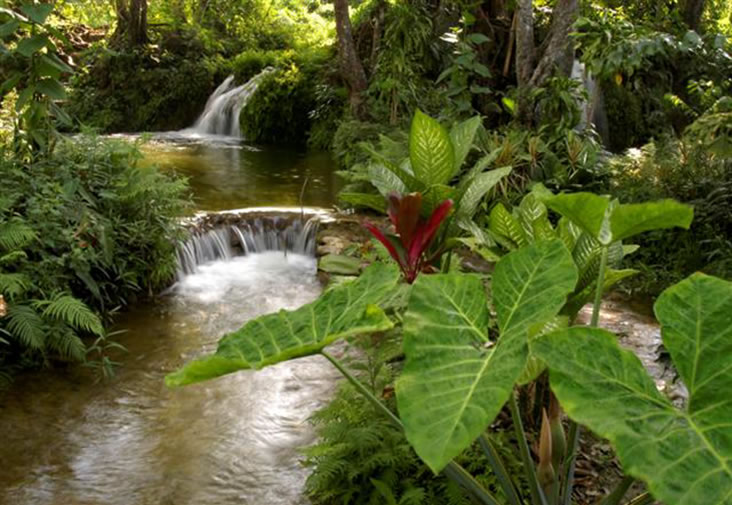 Boquilla. Huasteca Potosina.
Located on mountain slopes of Sierra Gorda, this widespread area is a habitat for a mind boggling number of various species of animals, birds and fish, which occupy forests and rivers of this nature park, located in Central Mexico in states of San Luis Potosi, Veracruz, and Queretaro.
Tamul Waterfall. Huasteca Potosina.
Water cascades of Micos River, which are perfect for jumping into frothing turquoise water of lower pools, Tampaon River, and Tamul Waterfall, make famous cascades of Semuc Champey in Guatemala or Rio Celeste in Costa Rica pale in comparison.
Tamul Waterfall. Huasteca Potosina.
The author of these words has recently visited Huasteca Potosina, and thoroughly enjoyed all wonders of ecotourism in this astonishing land. Even many Mexicans themselves are unaware of this nature park, and only the most inquisitive or fascinated by natural wonders of their own country, as well as local inhabitants, utilize the endless treasures of this land.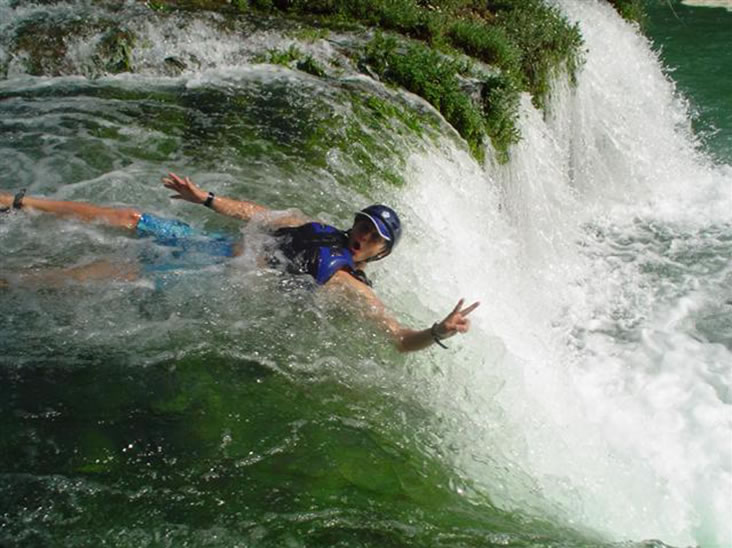 Adding Adrenaline to Bloodstream on Micos Waterfalls. Huasteca Potosina.
Micos Lagoons. Huasteca Potosina.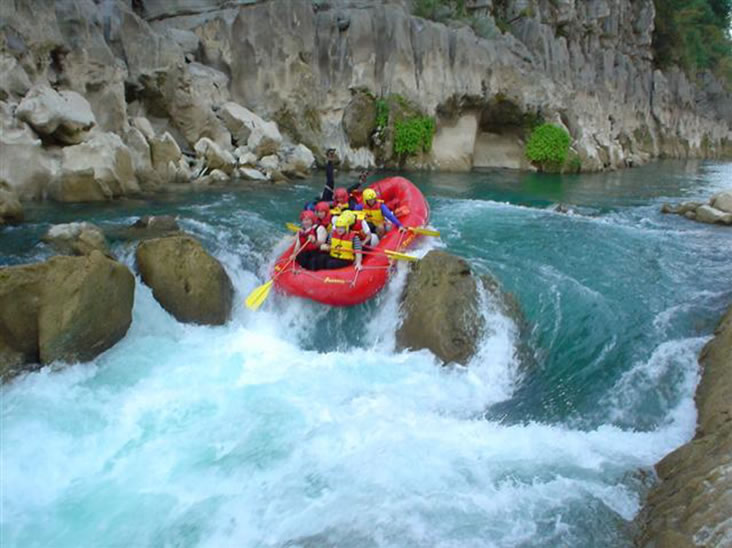 Rafting on Tampaon River. Huasteca Potosina.
Boquilla. Huasteca Potosina.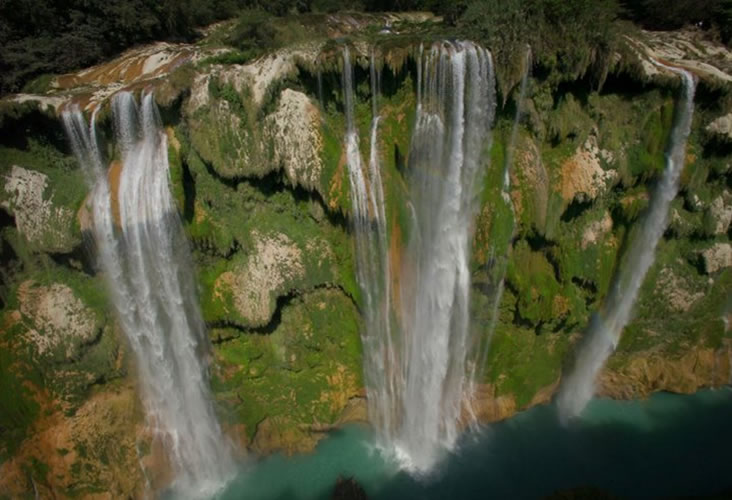 Tamul Waterfall.
Who has ever been to Xilitla -this inland island of surrealism inside a mountain selva, built by a British poet, collector, and adventurer Edward James? Who has ever glanced inside a vertical Swallow Cave, Sotano de Las Golondrinas-a round hole in the ground 1250 feet deep, which can fit an entire Empire State Building? Who has ever jumped into a Micos River waterfall, or descended alongside Minas Viejas like an experienced mountain climber, right into a natural pool of turquoise water? And who has ever guided his or her kayak straight towards a Tamul waterfall, vigorously fighting sky blue currents of Tampaon River?
Here, in a short distance, there is a wonderful park by the Tamasopo waterfall. It is not one, but series of larger and smaller waterfalls, creating a river with a same name. Water, spewed by these waterfalls, has carved a deep pool in a limestone base, which turquoise waters create a delightful place to swim in on a hot day. These pools form chains, divided by small limestone cliffs, through which the water falls from an upper pool into a lower one. The limestone bottom of local rivers and waterfalls is what determines their color. This beautiful place would provide not only food for thought, however. Here, by the Tamasopo waterfalls, numerous quaint restaurants would not let an adventurous soul to fall prey to hunger. Unlike Costa Rican or Panamanian menus, Mexican cuisine is known for its variety and splendor.
Ruins of a small XX century sugar cane factory, whose mechanisms were operated by energy of falling water, give this area an incredible atmosphere, making it look like a set of French movies about Count of Monte Cristo, or Musketeers. Not far, in 1.5 miles from Tamasopo, is located the Puente De Dios-Bridge of God, formed by water erosion in a mountain side. Standing on this bridge allows a beautiful view of both lagoons from each side. Inside this mountain there is a mysterious cavern accessible only by swimming, and sun rays, sneaking in through a crevasse, creates a surprising striking optical effect.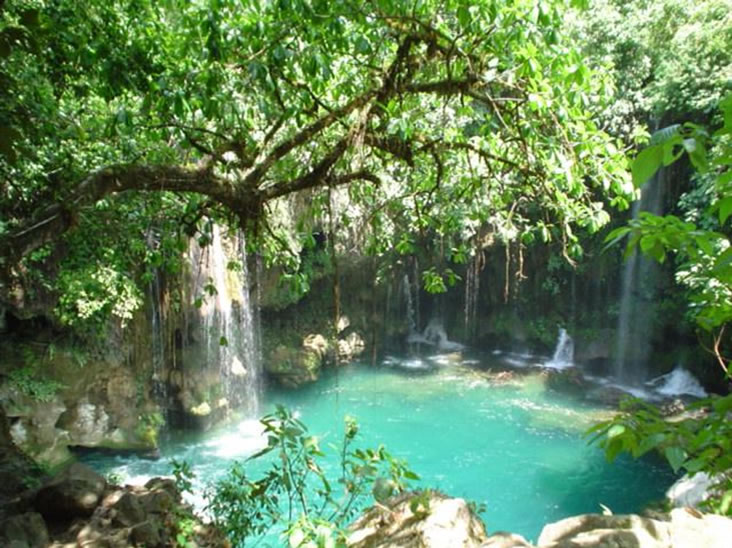 Puente de Dios. Huasteca Potosina.
Several small waterfalls supply the lagoon with water from a Tamasopo River, and one, El Cafetal-is deep enough to be a perfect spot for diving.
Various adventures and water attractions are absolutely safe, even though they are created by nature and are not man-made. Highly qualified young guides not only will tell about natural wonders, but will also not allow straying from a designed route, as well as equipping you with a cork vest and a helmet, meticulously making sure that they are put to a proper use. During a rappel-a descent from a mountain-a muscular instructor will always be right by, and when the time will come to jump into a Micos River, an instructor will jump first in order to capture your jump on camera for a wonderful memento of your adventure.
| | |
| --- | --- |
| Tamul Waterfall. | Rappel Over Tamul Waterfall. |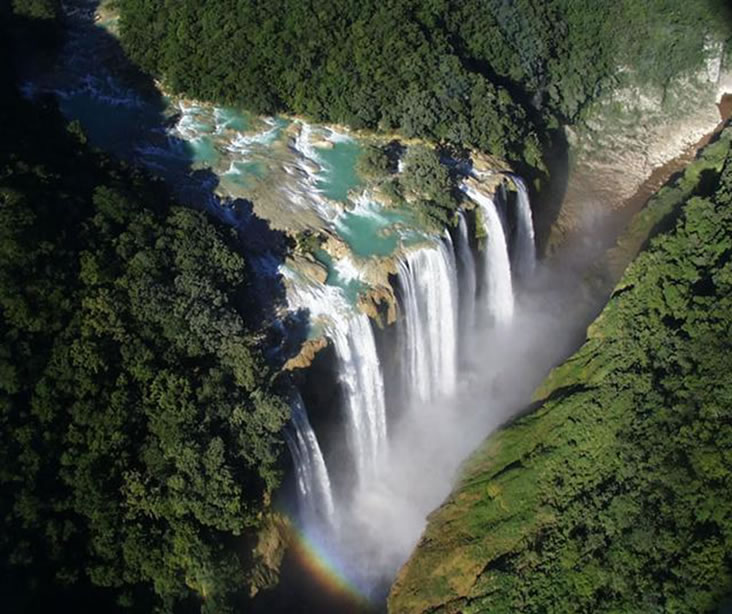 Tamul Waterfall. Huasteca Potosina.
Paddling to a Tamul waterfall down a Tampaon River, you will be accompanied and entertained by amazing little birds with sky blue tummies, which much like swallows swiftly, fly over the water surface in search of food and are completely harmless for tourists. You will be greeted and welcomed by jokes and exclamations coming from oncoming boats, whose owners are already returning home. Long horned Indian cows graze among thick grass alongside the river. Numerous streams and rivers carry their waters into Tampaon, breaking through rocks and vegetation, and falling into various sized waterfalls-as if to prepare travelers for a main sight- a 340-foot Tamul waterfall, a pride of the San Luis Potosi state-a final destination of Gallinas River, which meets Tampaon here and gives him its waters.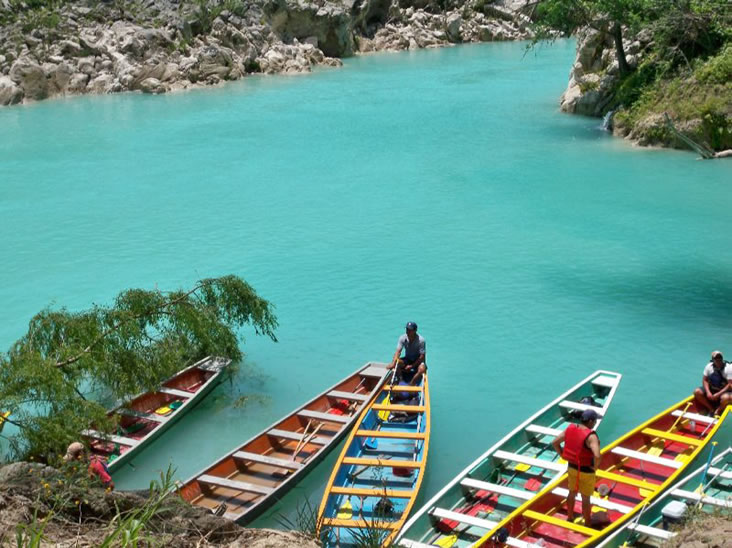 Tampaon River. Waterway to Tamul Waterfall. Huasteca Potosina.
Numerous diverse Mexican delicacies await you on a small improvised market upon arrival, as well as a short walk to a water- filled cave, in which you can relax after a boating adventure to Tamul. The road back down the current will be even more fun- filled-the birds will chirp even louder, the river will be even wider, and jokes, targeted at passerby's struggling up the current, will be even more humorous.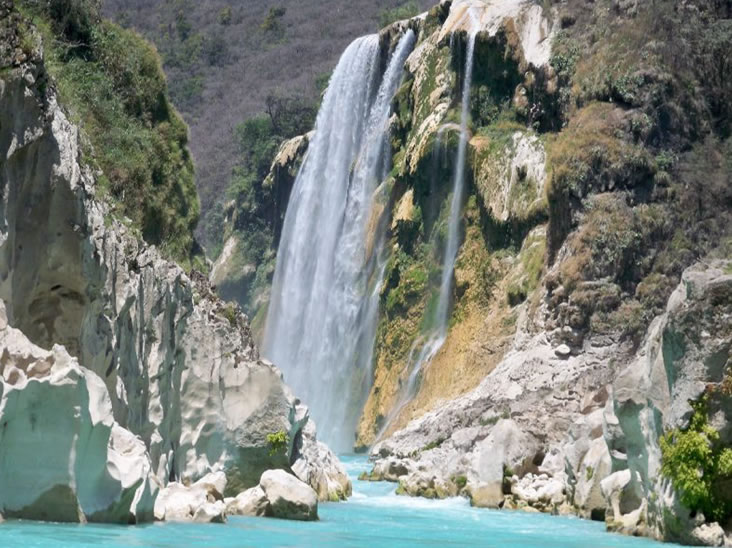 Tamul Waterfall. Huasteca Potosina.
Tampaon River. Huasteca Potosina.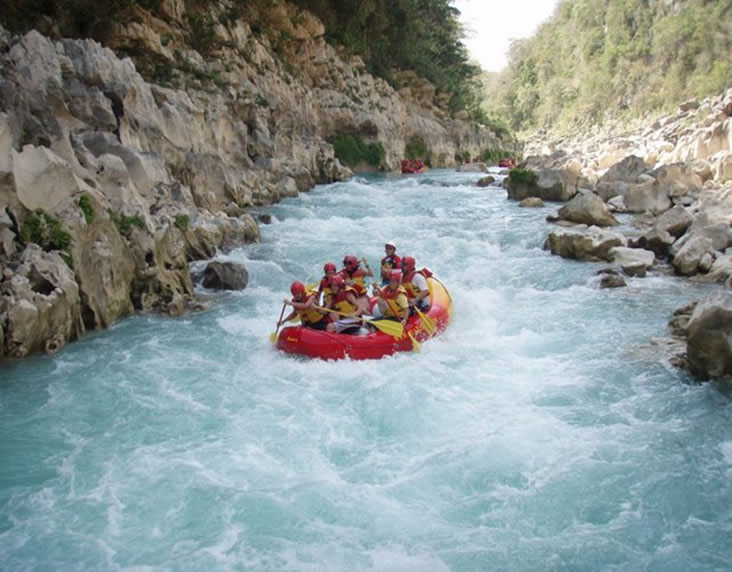 Rafting on Tampaon River. Huasteca Potosina.
Micos Waterfalls. Huasteca Potosina.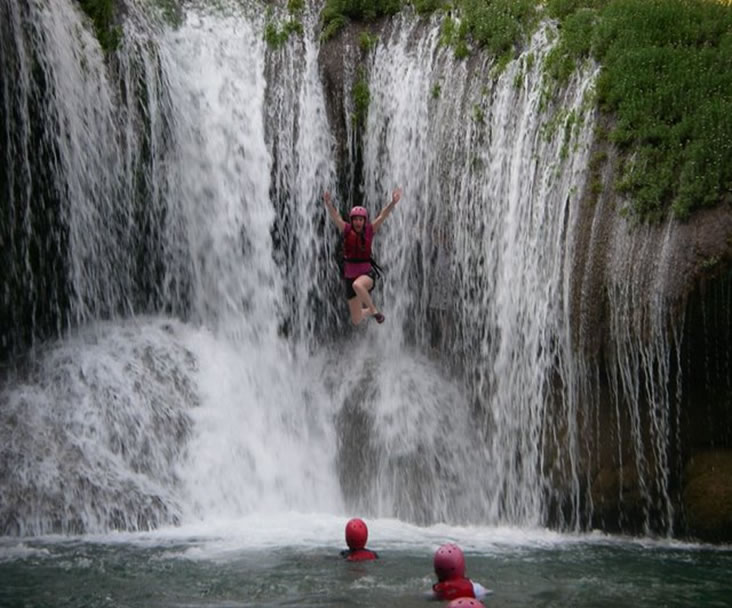 Micos Waterfalls. Huasteca Potosina.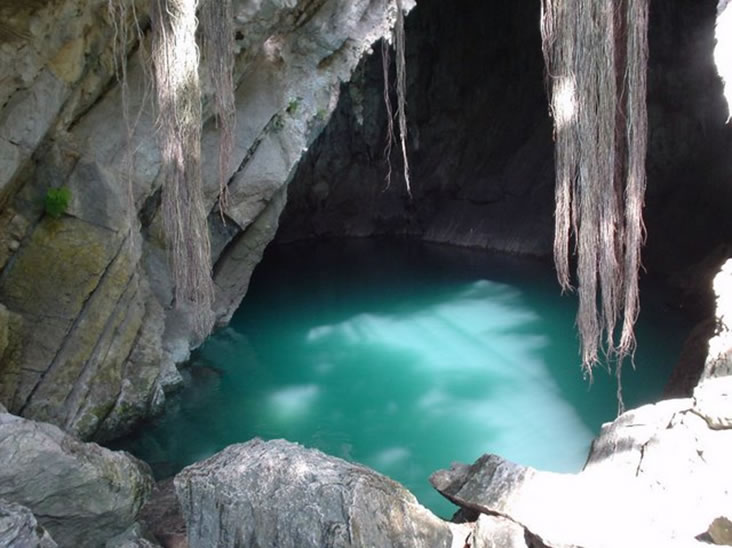 Cave by Tamul Waterfall. Huasteca Potosina.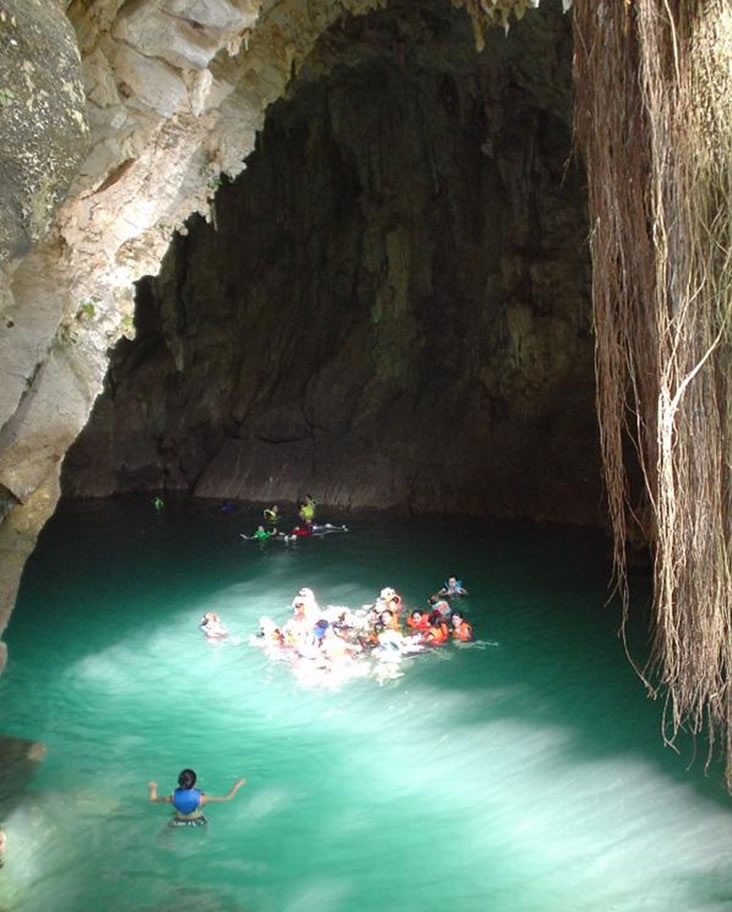 A chain of Minas Viejas waterfalls creates several pool-lagoons, at the base of which you can swim in a cool greenish-blue water, dive of a cliff under a supervision of an all-seeing instructor, descend down a mountain parallel to the waterfall, or just enjoy the sight of white ducks with red beaks, peacefully grazing by tree roots, which grow straight out of the water. You will see such a vast diversity of butterflies fluttering in the air here and there, you will be baffled by art, with which nature has painted their wings. Here is a perfect place to ponder on a meaning of life, especially after knowing that you will be guaranteed a delicious dinner at a quaint outdoor restaurant.
Minas Viejas Waterfalls. Huasteca Potosina.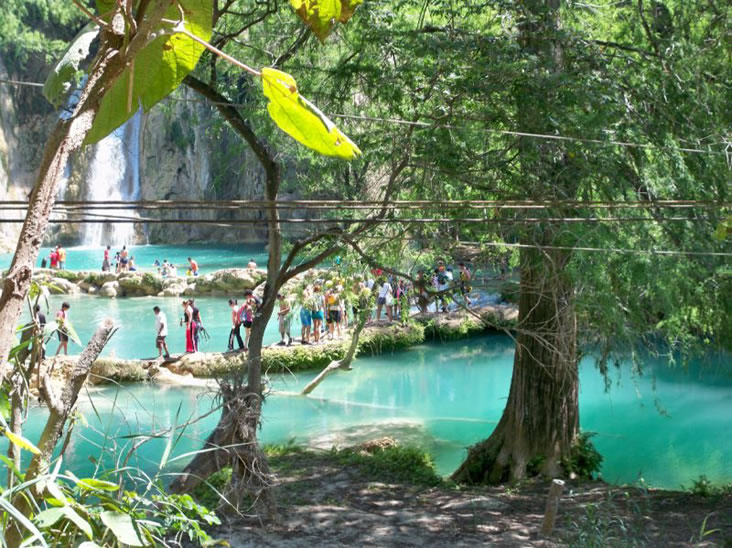 Minas Viejas Waterfalls. Huasteca Potosina.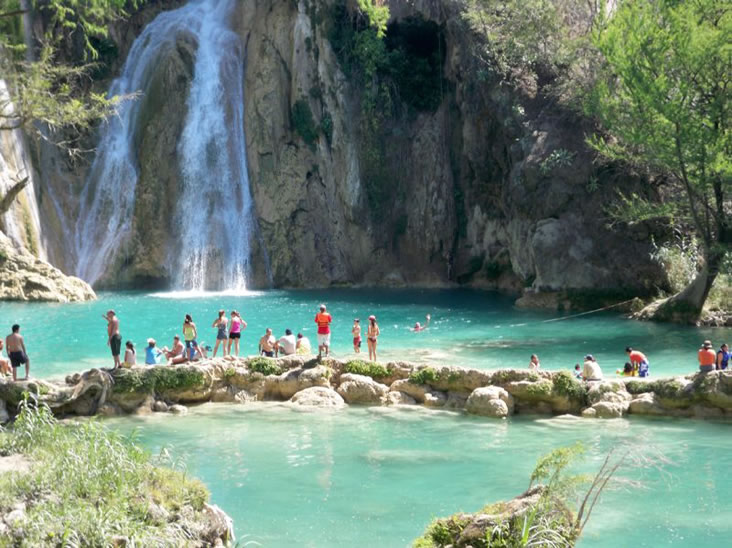 Minas Viejas Waterfalls. Huasteca Potosina.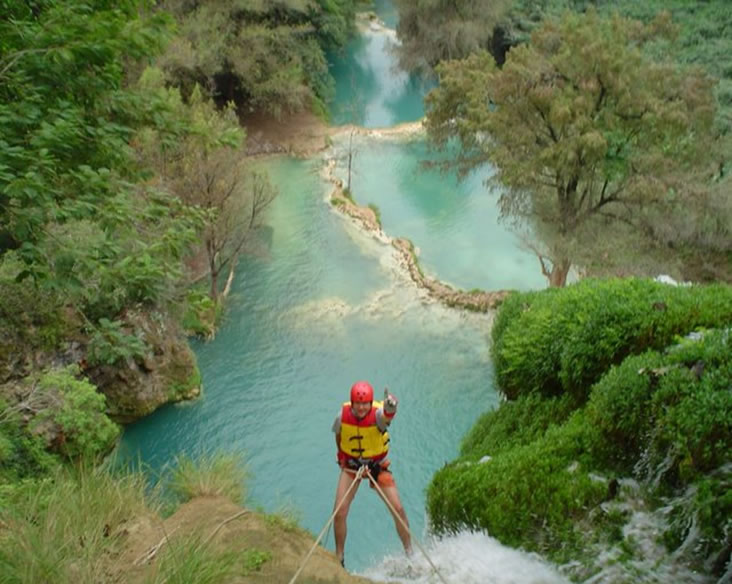 Rappel on Minas Viejas Waterfalls.
Minas Viejas Waterfalls. Huasteca Potosina.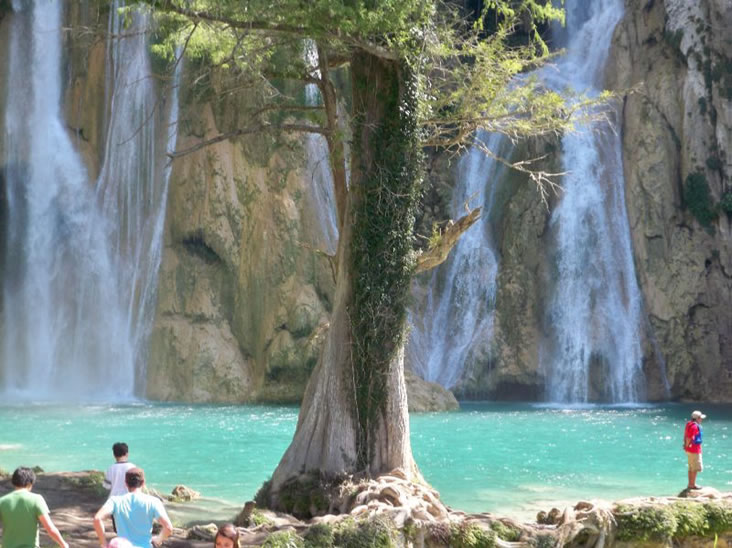 It is impossible not to mention a few words about a city of Ciudad Valles. This little town has an unofficial name-Big Gates in Huasteca Potosina. A wide boulevard and a market central area give this city a Mediterranean charm, even though there is no hint of a sea anywhere near.
It is also senseless to describe Sotano de Las Golondrinas. You have to see this natural wonder with your own eyes! Myriads of swallows, simultaneously plummeting at 6 pm into a hole in the ground more than 1250 feet deep located in a tropical forest, is an unforgettable feast for the eyes! In the morning, as if on a command, loudly chirping birds leave their unique habitat and depart on a journey in search for food. It is not known when and how this natural wonder was created, but one thing is undeniable-this sight is definitely one of a kind.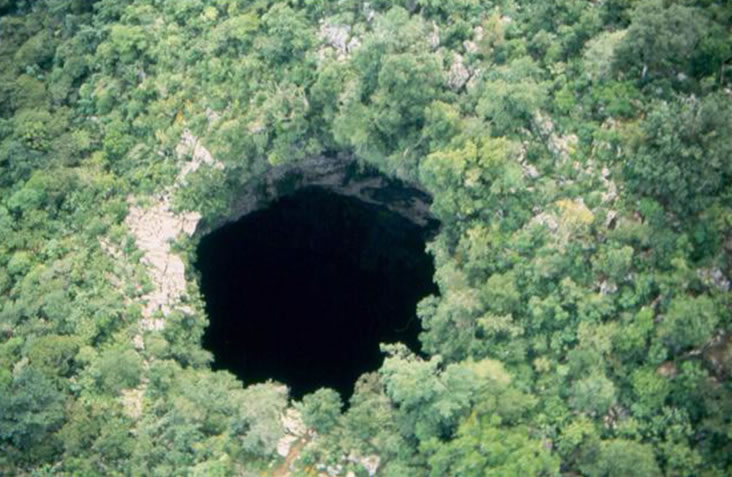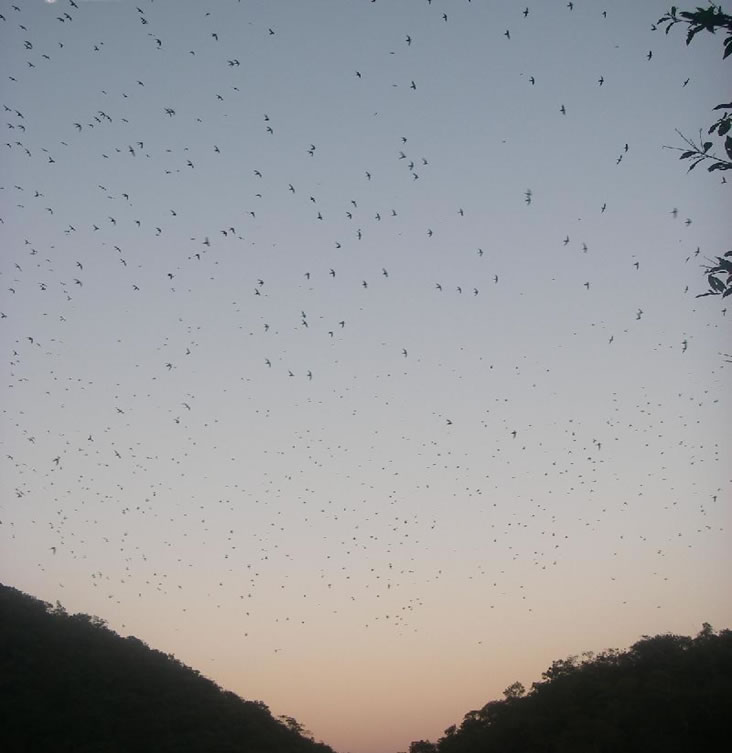 Another creation, this time a manmade one-Edward James castle - Las Pozas - in Xilitla -was created upon the idea of Sir Edward James himself by an architect Plutarco Gastelum. This unique place was definitely influenced by surrealistic ideas not only of an author himself, but his friends as well, which included such names as Picasso, Salvador Dali, Igor Markievich and George Balanchine.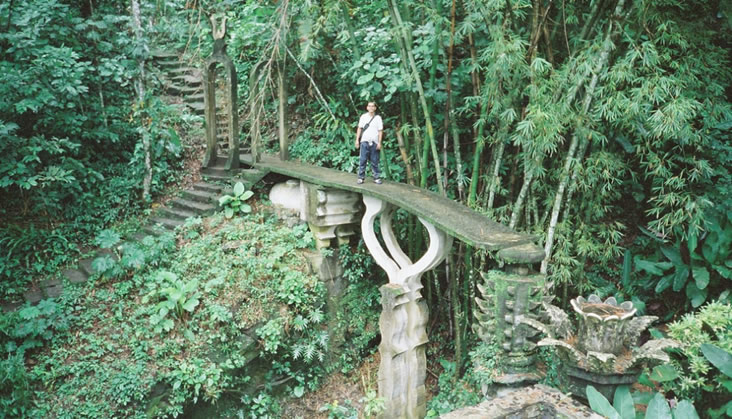 Spiral stairways, leading upwardly into nowhere, concrete flowers and arches, series of Las Pozas pools-all are parts of unfinished creations of an extravagant Sir Edward. He died in 1984, on the way to his native England, and the fruits of his imagination were left unfinished, creating many questions from visitors of this unreal world.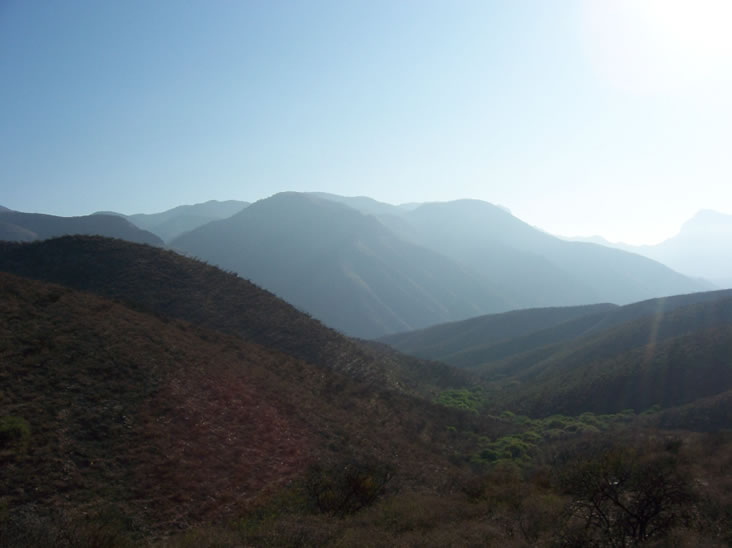 Sierra Gorda. Huasteca Potosina.
The surrounding mountain village will also be of interest to any traveler who wants to see the real Mexico.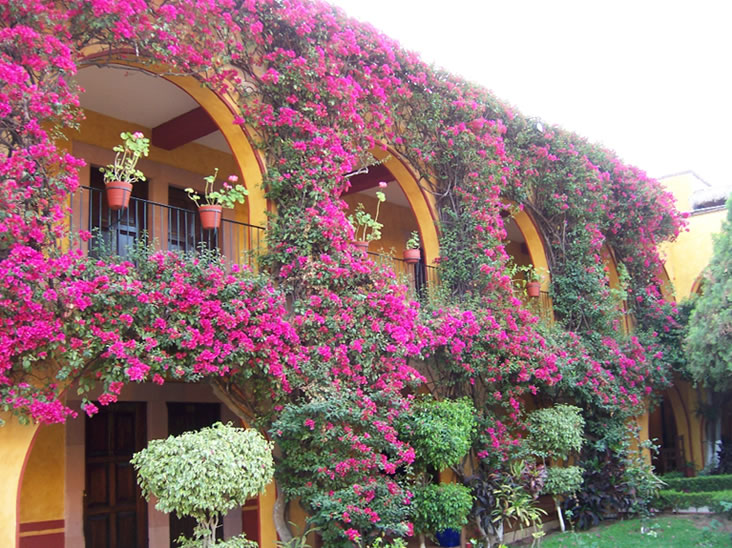 Nice Town of Jalpan on the Way to Xilitla.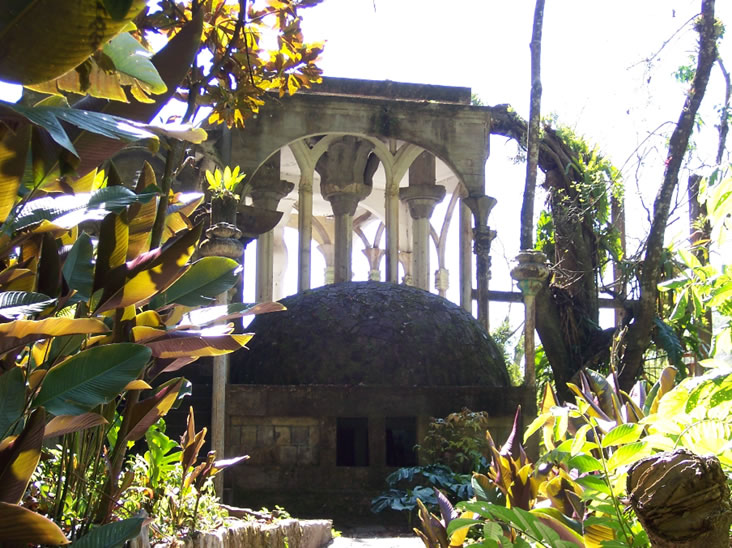 Sir Edward's Architecture Style of Las Pozas. Xilitla.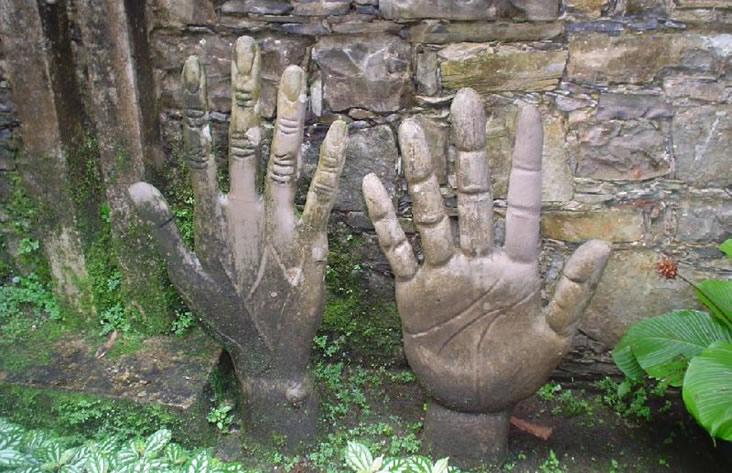 Hands of Plutarco Gastelum. Las Pozas. Xilitla.
Gregory Mirsky
Milavia International, Ltd
April, 2009
Our tour to Mexico including the best of Huasteca Potosina: